NEWS FROM THE SPRY LODGE 2012-13 MASONIC YEAR
(From the March 2012 Installation to the 2013 Installation)
---
SPRY LODGE HOST 3rd ULTIMATE TRIVIA CHALLENGE
Spry Lodge No.385 put on the third Ultimate Trivia Night as a fund raising event on behalf of the District Project # 2498.
The event was again held at the Muddy Water Hotel in Beeton on Wednesday March 20th. Sincere thanks go out to Kim Sarrugia, the owner of the Muddy Water Hotel, for accommodating the fun event.
The Spry Lodge District Project Committee Chairman, Bro. Larry Woodruff, returned as the enigmatic MC, and the coordinator of the whole event. Another excellent job Larry! To eliminate any possibility of the current D.D.G.M. of Georgian South District from having any bragging rights of being on the winning team for three (3) consecutive years Larry invited R.W. Bro. Douglas R. Fleet to read the trivia questions; smart thinking Larry.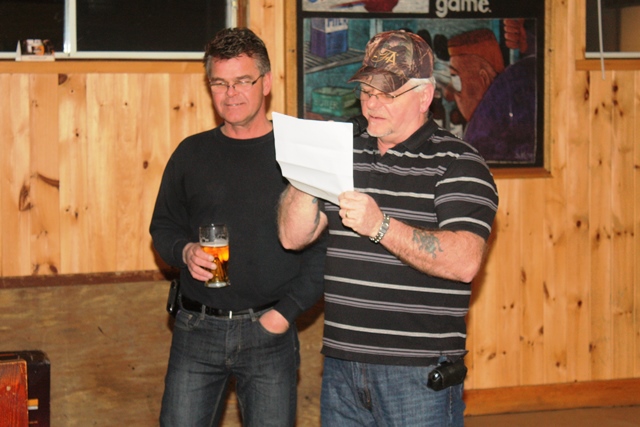 Special mention goes out to those who also helped make things work smoothly that night; Ms. Emily Anderson, Ms. Sarah Mackichan, Ms. Brianna Attias and Bro. Andy Emslie. Recognition is also awarded to the exceptional charity of Bro. Jeff Ercul of Tottenham Lodge No. 467 for the very generous donation he made towards the event that night.
Congratulations go out to this yearís victorious team of know-it-allís, which was a group of family and friends put in by Spry Lodges very own Bro. Gord Grieve.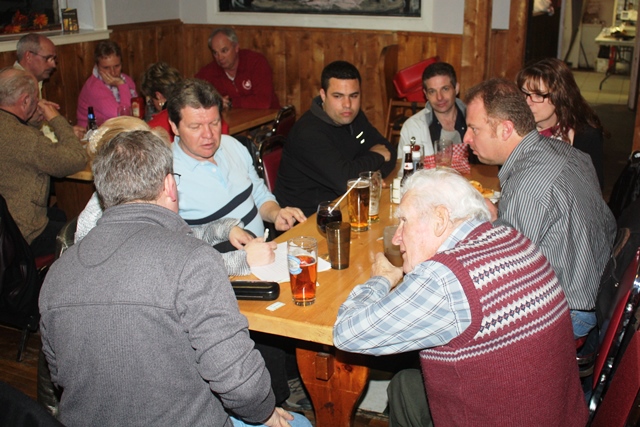 Bro. Larry Woodruff, presented the money raised ($1,546.00) to R.W. Bro. Douglas R. Fleet D.D.G.M. of Georgian South District during a Lodge meeting the following week. R.W. Bro. Fleet's Masonic District Project is raising funds in support of the War Amps of Canada.
Thanks to all that came out and made the night another great success that it was!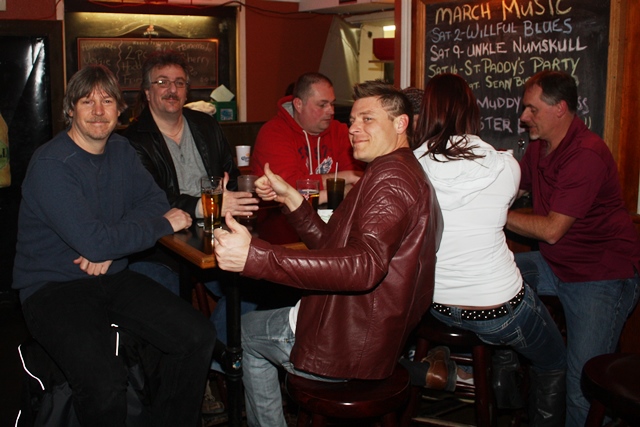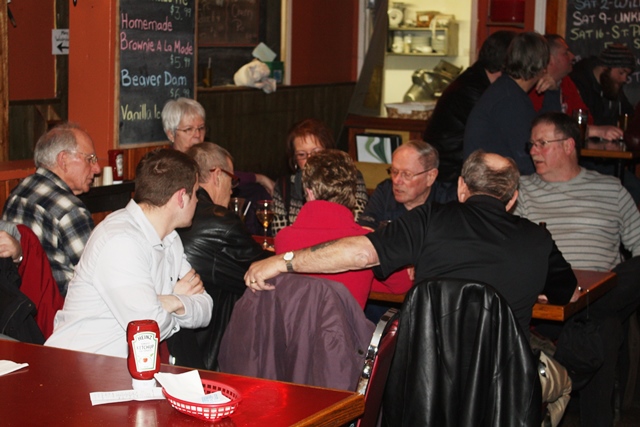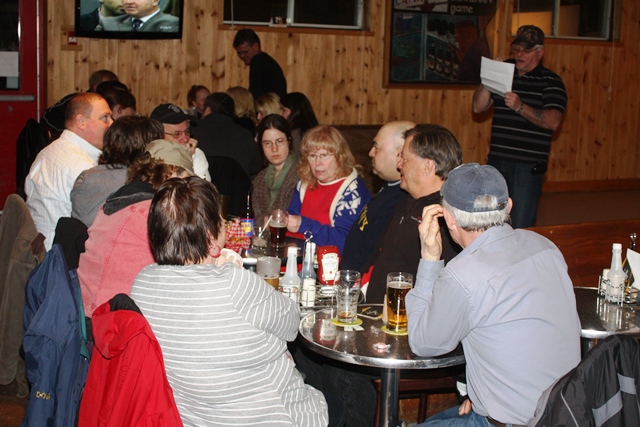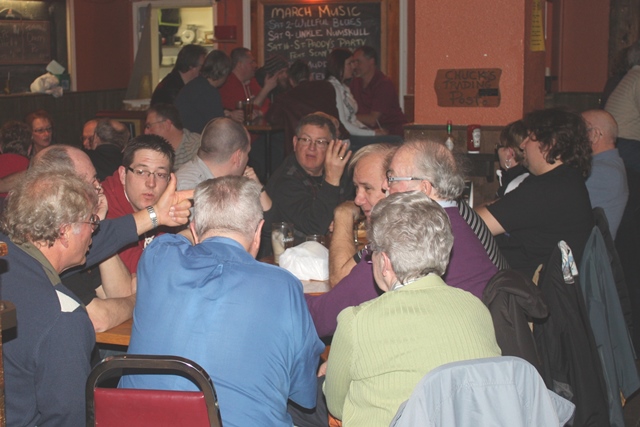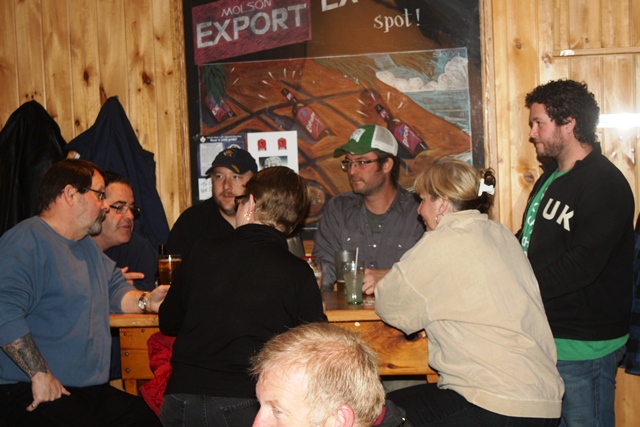 ---
REGULAR FEBRUARY MEETING OF SPRY LODGE
ELECTIONS: As per our By-laws, the annual elections of the Officers for Spry Lodge for the ensuing Masonic year occurs at the regular February meeting. We are pleased to announce that the following officers received the necessary votes to enable them to progress the next step to the East:
Master-elect: Bro. Scott McCormick
Senior Warden: Bro. Tim O'Rourke
Junior warden: Bro. Larry Woodruff
Secretary: R.W. Bro. Paul Gower
Treasurer: V.W. Bro. Greg Murphy
Chaplain: Bro. Andy Emslie
PASSING OF BRO. BARNETT: Also at the February 25th meeting, Bro. Chris Barnett was passed to the second degree while his father, W. Bro. Jim Barnett, watched on. Chris did an outstanding job of proving his proficiency in the first degree, much to the pride of his father. Congratulations Bro. Barnett!.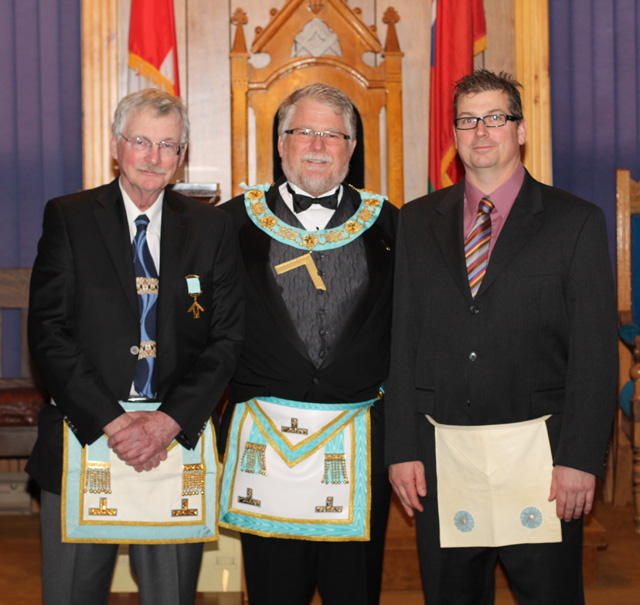 ---
SPRY LODGE FAMILY & FRIENDS SKATE
Spry Lodge booked ice time at the Beeton Arena so that our members, families and friends could have an hour long private skate indoors.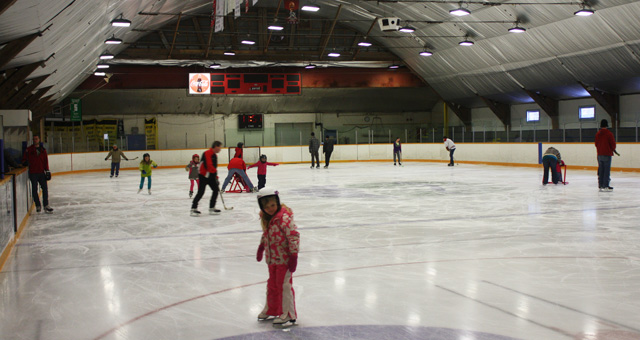 The event took place on Sunday, January 20th, 2013. The skating was well enjoyed by all who took advantage of the private ice time and special thanks goes to Bro. Tim O'Rourke for organizing yet another great fun event.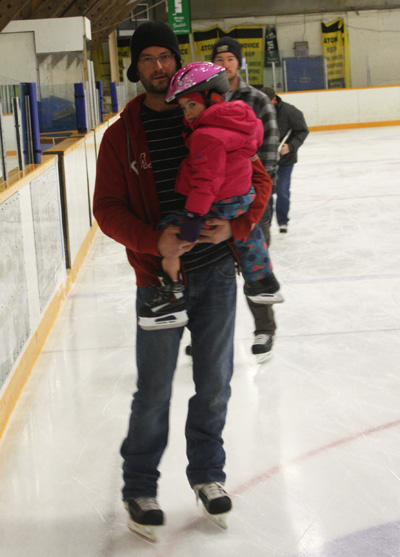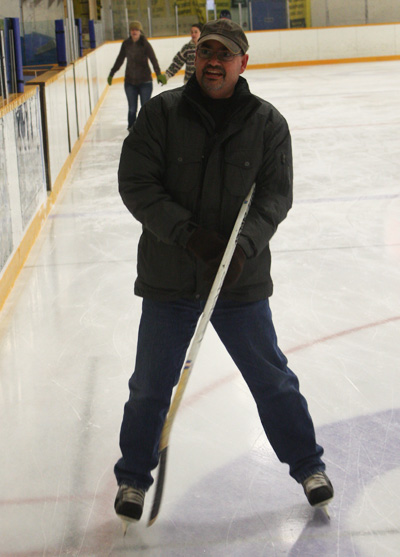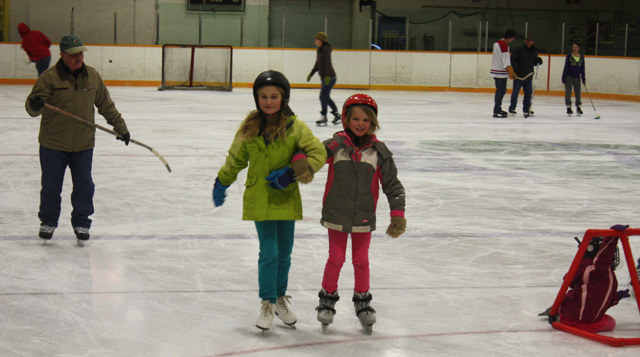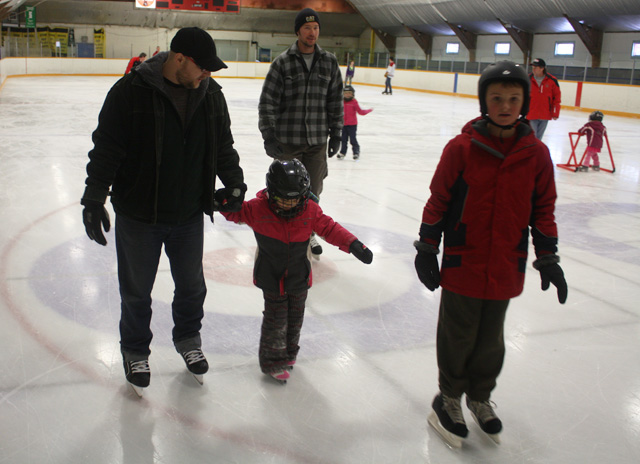 ---
SPRY LODGE 2012 LADIES CHRISTMAS PARTY
Thank you to all who participated in this years Christmas Celebration for our special ladies. It was a fantastic afternoon filled with laughs, memories and song.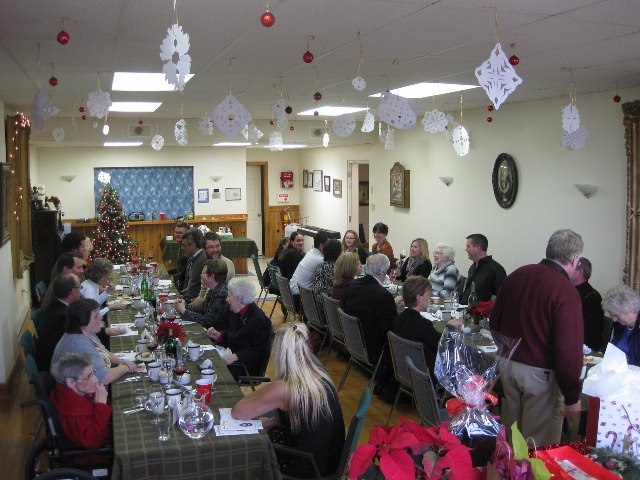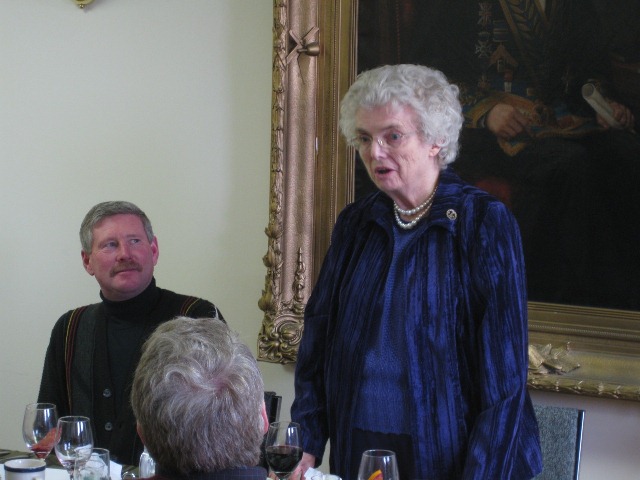 The delicious meal was catered by The Whistle Stop and special entertainment included a range of talented performers from Music In Motion and poems provided by Ms. Kristen Johnson.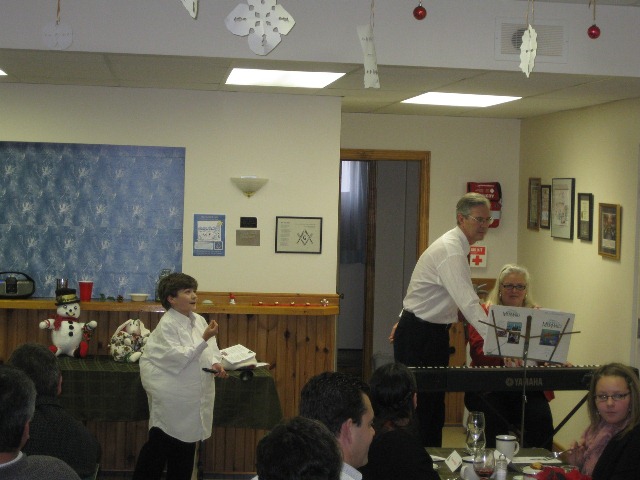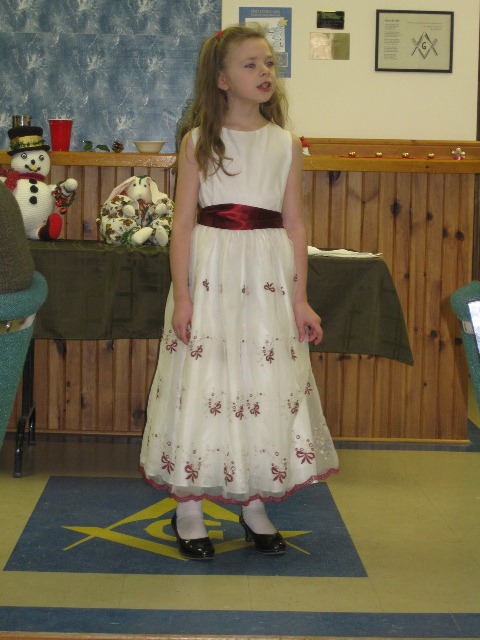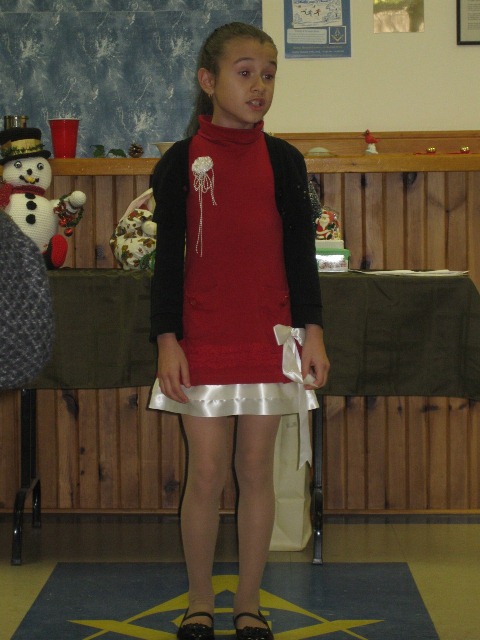 Gifts and Shriner cakes were provided to each of our special ladies as a token of our continued appreciation for all they have contributed to Spry Lodge. Handcrafted prizes donate by Mrs. Heather LoPatriello were raffled off, including a gingerbread house won by Ms. Emma Daigle.
A special mention should be made of those who came to help decorate the evening before, including Ms. Ashley and Ms. Christina Anderson, Ms. Laura and Ms. Emma Daigle and Ms. Deliah Martyn on her 3rd birthday along with her new sister, baby Josephine Martyn.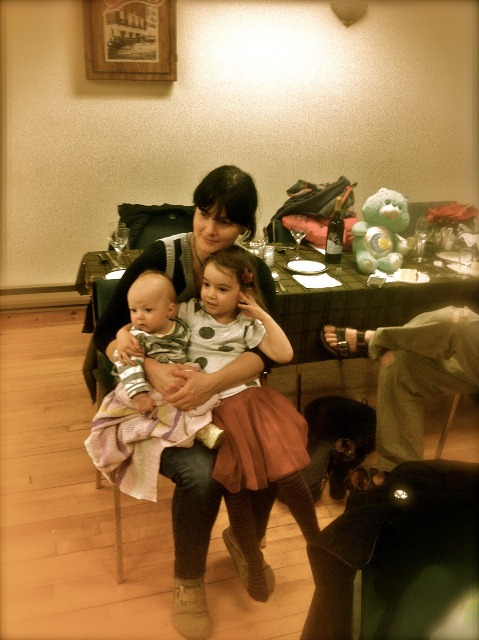 Thank you again to all of you who made this day even more special, and a very Merry Christmas and a Happy New Year to you and yours.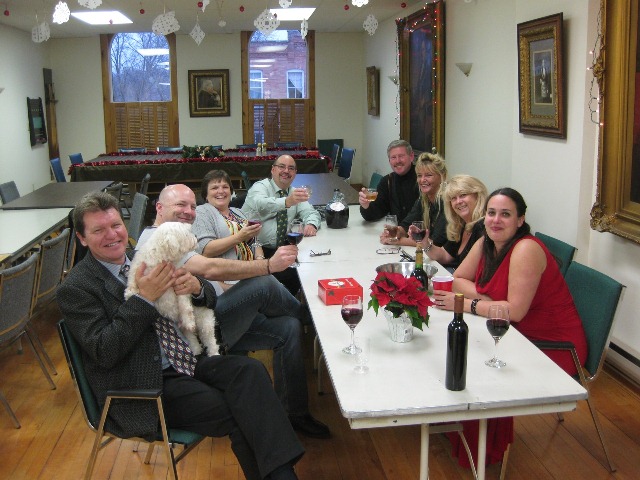 ---
NOVEMBER 26th, DDGM OFFICIAL VISIT TO SPRY LODGE
Spry Lodge was pleased to welcome R.W. Bro. Douglas R. Fleet, the District Deputy Grand Master of Georgian South District to our November meeting on this, his official visit.
The Lodge was opened at 5:30 pm, suspended for a most excellent banquet at 6:30 pm, and resumed at 7:30 pm. Amongst other business, the work of the evening night included the Passing to the F.C. degree of Bro. Michael Adair, following his giving proof of his proficiency in the former degree.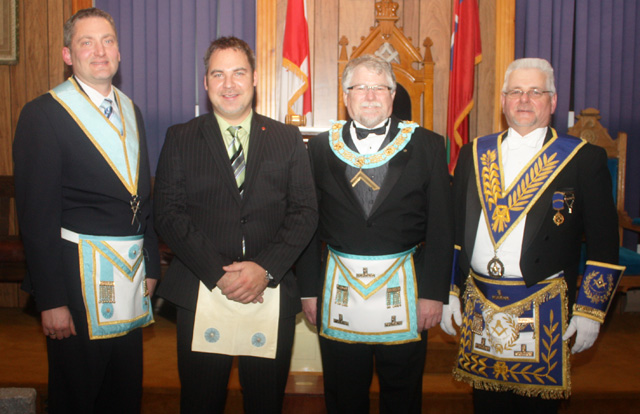 Bro. Glenn Potts also gave unequivocal proof of his proficiency in the M.M. degree in the course of this fine evening of Masonic ritual.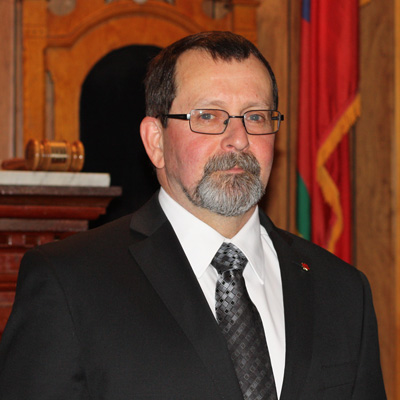 ---
OCTOBER 22nd LODGE MEETING
W. Bro. Clayton Shibley:- Sixty Years a Mason! In recognition of this significant milestone, V.W. Bro. Davey Todd honoured W. Bro. Shibley by paying tribute to his extensive Masonic and personal career. Following which, W. Bro. Johnston and R.W. Bro. Fleet presented W. Bro. Shibley with a 60 year certificate and pin.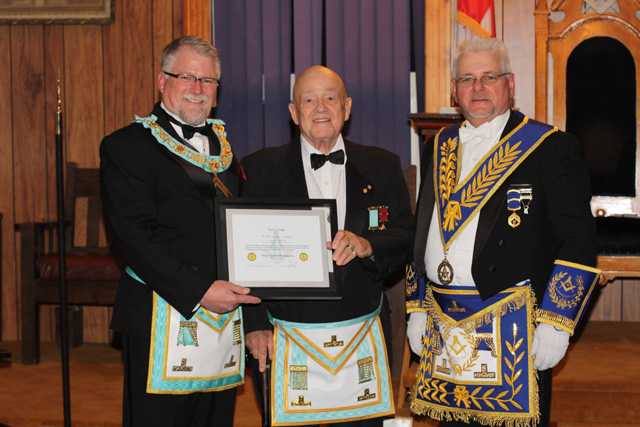 As part of Spry Lodges Memorial Service, Bro. Al Helmer (a long standing member of Spry Lodge who flew in from Saskatchewan for a fraternal visit) and Bro. Jim Moore paid military honours for those who have served so selflessly to obtain the freedoms we enjoy each day in a world where such freedoms have not yet been fully realized by others. At the conclusion of the meeting R. W. Bro., Robert Murdoch presented a soliloquy to the memory of those who did the good deed, and paid the ultimate price.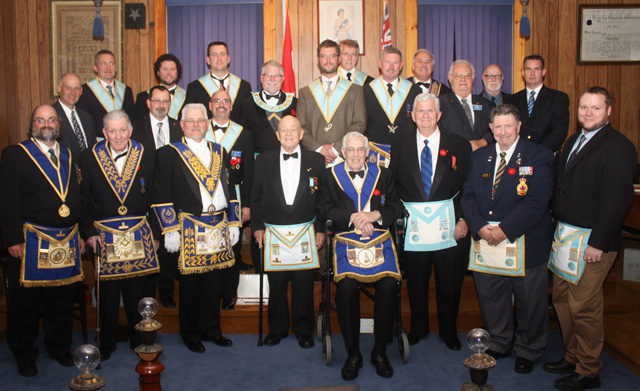 ---
SEPTEMBER 24th LODGE MEETING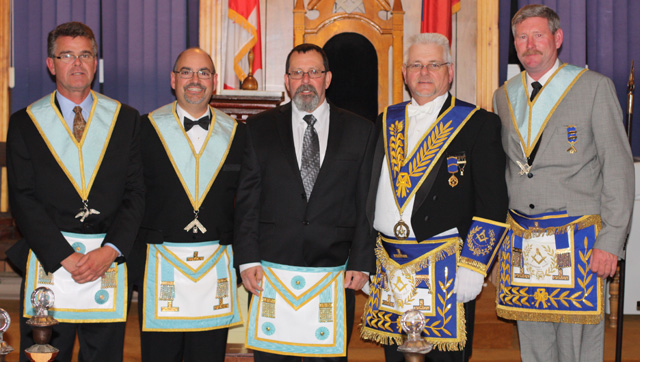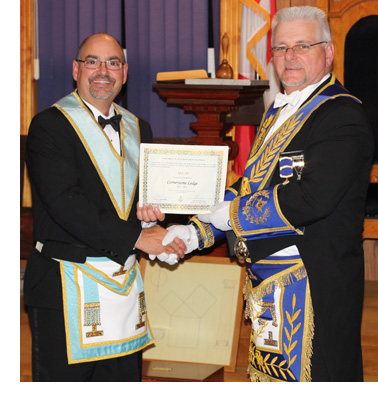 Once again, Bro. Potts proved his zeal, enthusiasm and dedication to the craft by eagerly progressing through the degrees and being Raised to the S.D. of a M.M. His proficiency in the F.C. degree was equally well conveyed as his previous exemplary demonstration of the E.A. degree. Congratulations again, Bro. Potts!
R.W. Bro. Douglas R. Fleet attended the meeting and was received under the wands as this was his first visit to Spry Lodge in the capacity of the District Deputy Grand Master of Georgian South District.
At the end of the meeting, R.W. Bro. Fleet presented the lodge with another Cornerstone Certificate, recognizing that our lodge planned, implemented and managed a well-rounded yearly lodge program that promoted lodge activities, brotherhood, charitable work and involvement in the community. This is the second year that the Grand Lodge of Canada in the Province of Ontario has operated the Cornerstone project and also the second year that Spry Lodge has received the Cornerstone Certification. The officers and members of Spry Lodge should feel justly proud of their commitment and involvement enabling our lodge to be distinguished as a Cornerstone Lodge!
---
PONDEROSA AND PATIO GOLF DAY
This years Ponderosa & Patio event was well attended and enjoyed by all. The sun was shining and the greens were friendly. We switched the format to best ball this year making the golf even more enjoyable, as everyone was able to contribute their best shot. After the 9 holes, we gathered on the front patio of the Muddy Water Tavern for some wings, drinks and laughs. Prizes were awarded to all. $175.00 was raised to go towards the Lodge. We are looking forward to another great outing next year.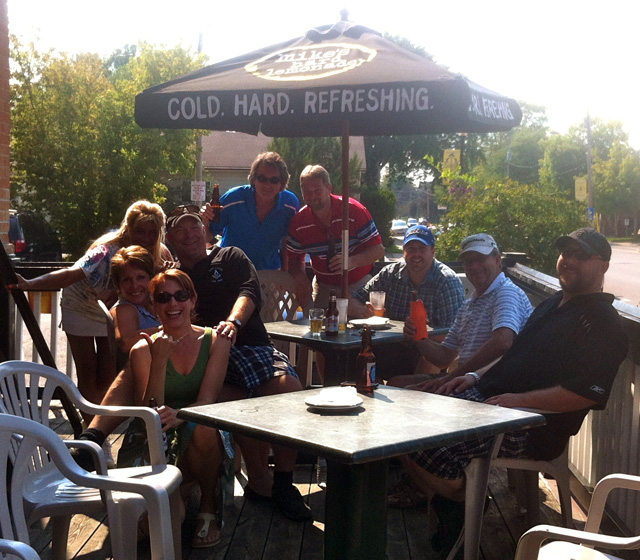 ---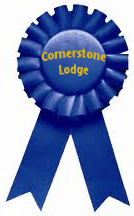 SPRY LODGE NO.385 CONTINUES TO BE RECOGNIZED AS A CORNERSTONE LODGE
Spry Lodge is again awarded the prestigious Cornerstone Lodge Award! The primary purpose of the Cornerstone Project is to encourage and recognize lodges that plan, implement and manage a well rounded yearly lodge program that promotes lodge activities, brotherhood, charitable work and involvement in the community.
Although good planning and strong management is a vitally important component to the overall success of our lodge, it must never be forgotten that in order to maintain the momentum in our lodge our members must have a compelling idea of where the lodge needs to go, what type of members it will attract, what benefits it can provide, and how the organization needs to be perceived in the community if it is to thrive.
Value Added Benefits of the Cornerstone Project
When Spry Lodge made the decision to participate in this program we acknowledge our desire to increase the value of the experience that we provide to our membership. Our participation further exemplified our many strong traits and benefits.
o Increased lodge vitality
o Enhanced teamwork
o Increased sense of pride in the lodge
o Greater sense of accomplishment
o And, the use of the designation of "Cornerstone Lodge 2010 - 2014" on our Lodge Summons, Newsletter, Letterhead or other such lodge material.
Spry Lodge is proud to be recognized as a Cornerstone Lodge and appreciates all the hard work and commitment that our members put forth in making our lodge such a dynamic and respected Masonic Lodge,
---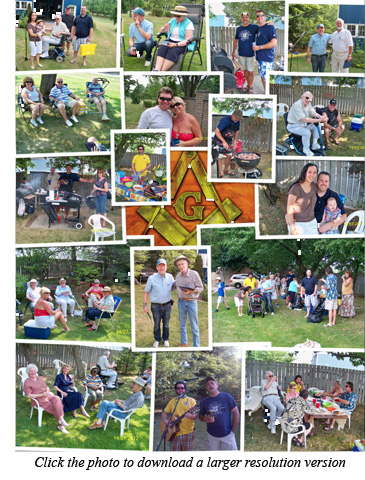 SPRY LODGE FAMILY & FRIENDS BBQ
This years annual Spry Lodge Steak Fry was a great success. The G.A.O.T.U. blessed us with sunny skies and the Spry team of past Grand Lodge officers charbroiled the steaks to perfection. The event was well attended by Spry Lodge members, their families and friends, and other members of the district.
W. Bro. Rory MacDonald presented certificates to R.W. Bro. Harry Anderson for 45+ years a Mason, and W. Bro. John Gould for 30 years a Mason.
V.W. Bro. David Todd and W. Bro. Doug Fleet presented a special Hudson Bay baby blanket and teddy bear gift donated by the brethren of Spry Lodge to baby Patrique Landry, the son of Bro. Jean-Pierre Landry and his wife, Jean Kiathavisack.
Bro. Wes Martyn and his partner had their second daughter, Josephine Martyn early that morning so they were unable to attend, leaving Bro. O'Rourke to entertain by himself. The solo guitar and vocals were quickly supported by a group of singers who rocked us into the evening, when we all gathered around the campfire and shared stories and laughs.
Once again, this was a wonderful event, enjoyed by all. We would like to thank Bro. Gord Grieve and his wife Jan for hosting us and all the hard work they put into a great day.
---
BRO. POTTS ADVANCES TO A F.C.
Bro. Potts proved his proficiency in the E.A. degree in fine form at the regular Spry Lodge meeting held on Monday June 25th, and was subsequently passed to the degree of a F.C. Congratulations to Bro. Potts on this advancement in his Masonic career.
---
PRESENTATIONS OF MASONIC RECOGNITION
At an emergent meeting on Saturday June 16th, W.Bro. Johnston and R.W. Bro. McKillip presented several members of Spry Lodge with certificates recognizing their milestones in Masonic service towards the craft.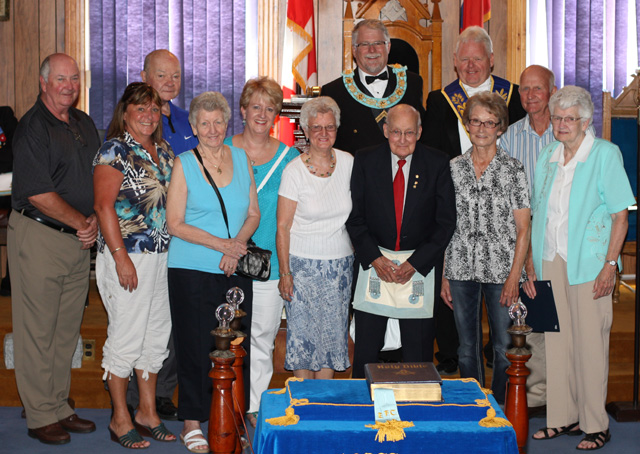 The highlight of the day was Bro. Verland (Verl) Stewart being recognized as having completed sixty (60) years of loyalty, zeal and attachment to the principles of Freemasonry, pictured above along with family and friends.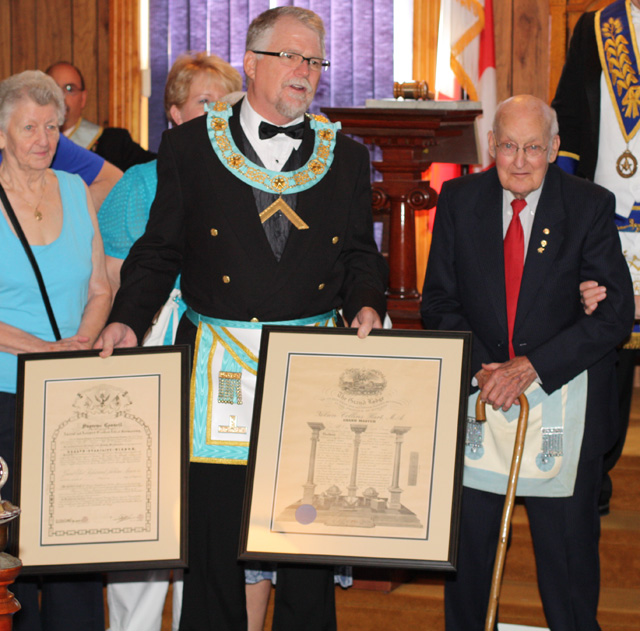 As a memento of this auspicious occasion, Verl was presented with frames to proudly display his Master Mason and Scottish Rite certificates.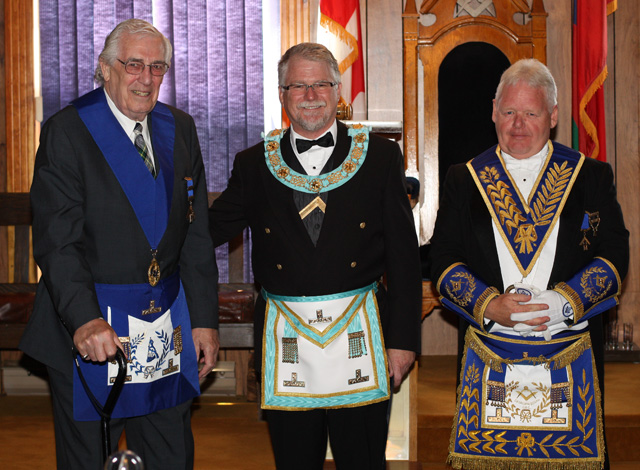 V.W. Bro. David (Davey) Todd was recognized and presented with a certificate for being a Mason for forty five (45) years.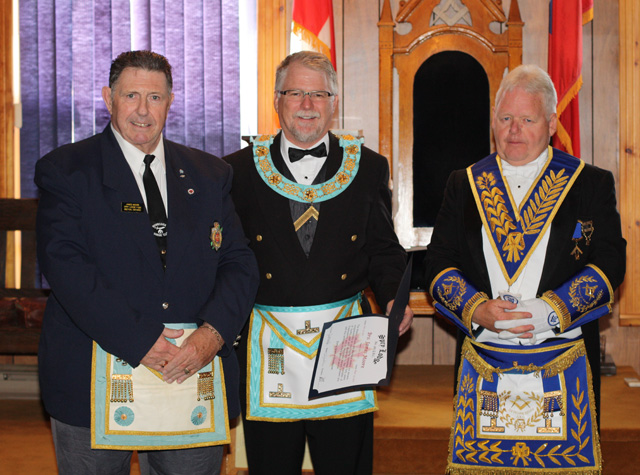 Bro. James (Jim) Moore was recognized and presented with a certificate for being a Mason for forty (40) years.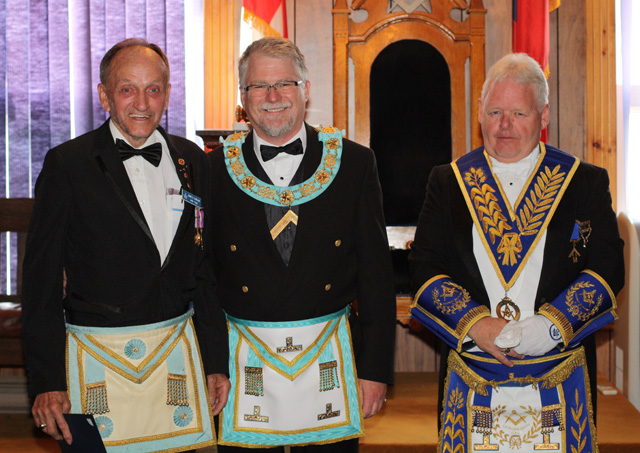 Bro. David (Dave) Earlam was recognized and presented with a certificate for being a Mason for thirty five (35) years.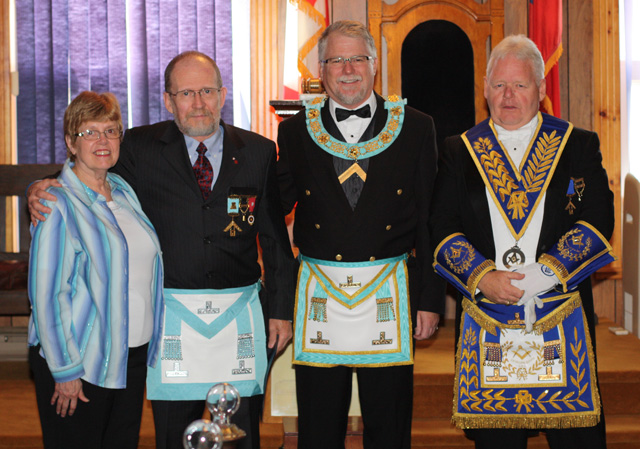 W. Bro. Roderick (Rory) MacDonald was recognized and presented with a certificate for being a Mason for fifteen (15) years.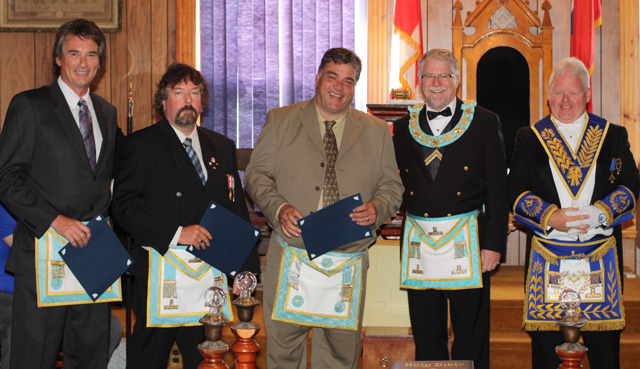 Bro. Colin Thain, W.Bro. Jason Hill and Bro. Richard Norcross were also on hand to receive certificates acknowledging their being Masons for ten (10) years.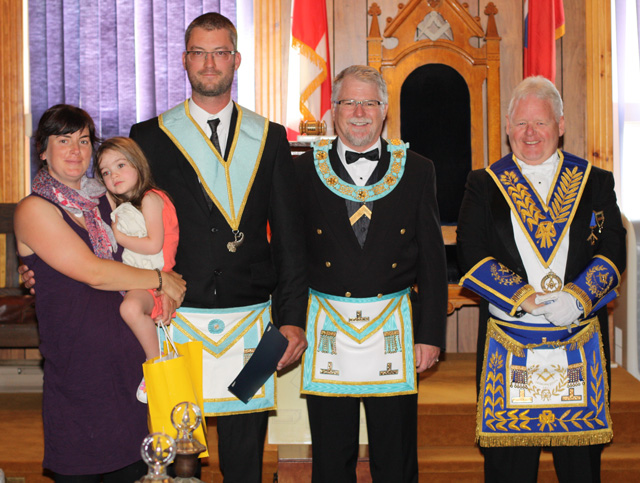 Bro. Wesley (Wes) Martyn, along with his wife and daughter were present to receive his Master Mason certificate.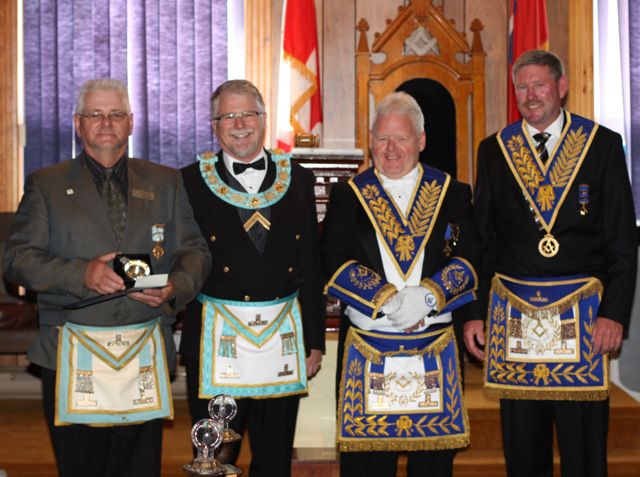 While in the mood for handing out certificates and recognizing Masonic commitment, the W.M., W.Bro. Johnston, presented W.Bro. Doug Fleet with a token of appreciation for all that he has done and continue to do for Spry Lodge (photo above); and the officers of Spry Lodge presented R.W. Bro. Paul Gower with a certificate of appreciation for his outstanding commitment and support (photo below).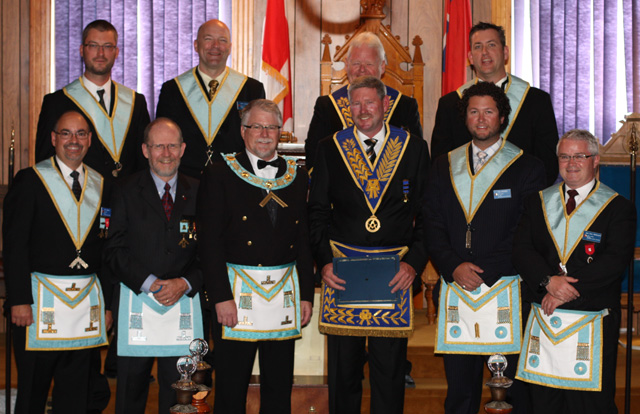 ---
O.P.P. DEGREE TEAM INITIATES BRO. MICHAEL ADAIR
Below, our newest member of Spry Lodge, Bro. Mike Adair, poses with one of his sponsors, Bro. Eric Steele and the OPP Degree Team, led by R. W. Bro. Chuck Vessey. Being initiated into the Masonic Fraternity by the O.P.P. Fraternity, made for a great evening on May 28th, 2012, for the candidate, guests and brethren of Spry Lodge.† For Bro. Adair, himself an O.P.P officer and having no prior knowledge of the Degree Team, it was quite a surprise and the Degree Team, doing an outstanding job, rendered Bro. Adair's entry into Masonry and Spry Lodge, all the more meaningful.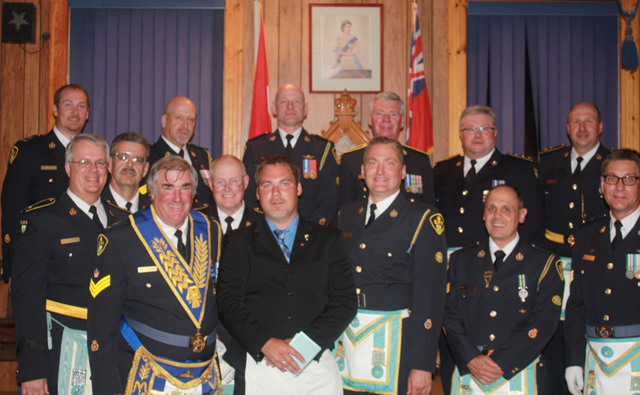 ---
SPRY LODGE HOST MASONICh.I.P. CLINIC
This yearís †MasoniChIP event at the Beeton Honey & Garden Festival was another success for Spry Lodge. If not for the involvement of the our volunteers pitching in, 75 kids and their parents might be a little less confident today. I thank everyone, especially the kids and wives, and other Lodge members who helped and worked for the betterment of our community. This latest clinic brings the total to 476 children & youth, predominantly from in and around the Beeton area, whose parents have received a state of the art child identification package provided by Spry Lodge and the MasoniChIP Program. It is our sincere wish that none of these ID kits are ever needed, but it is better for the families to be prepared just in case.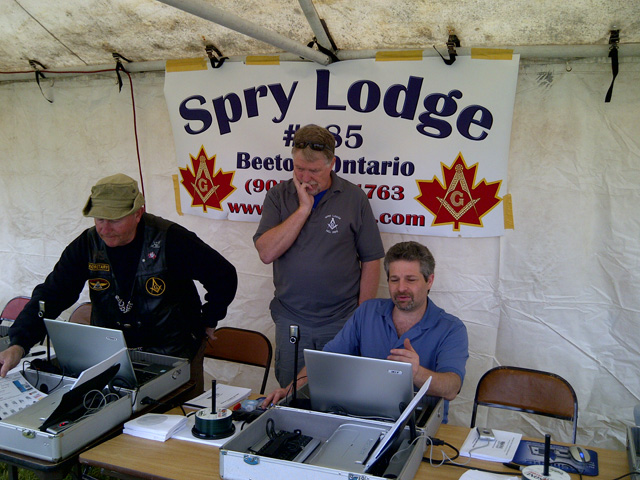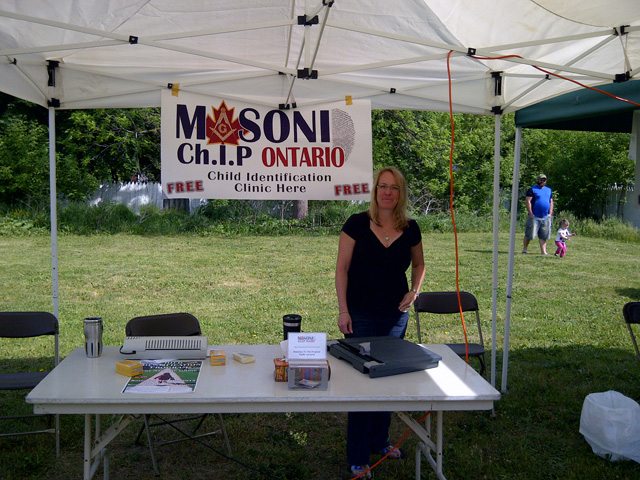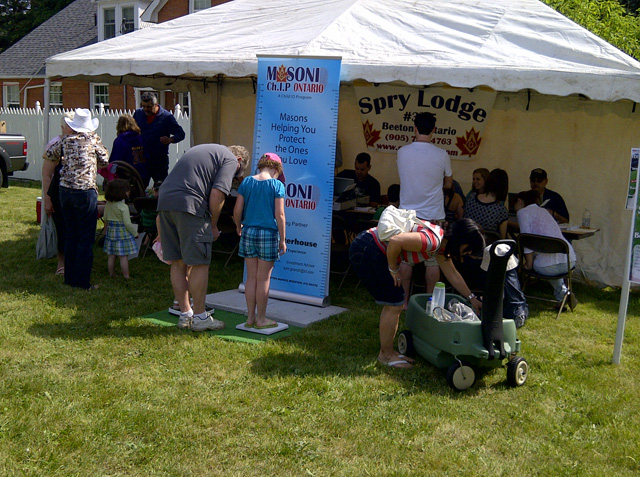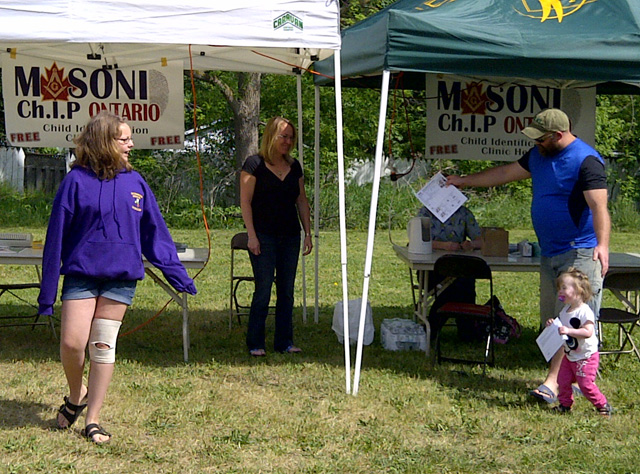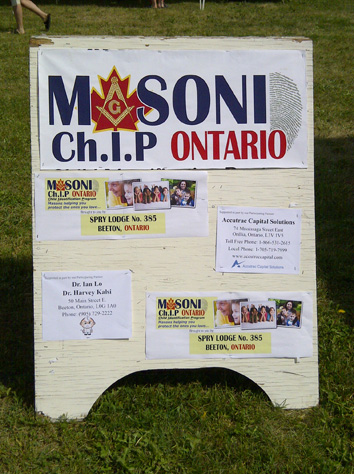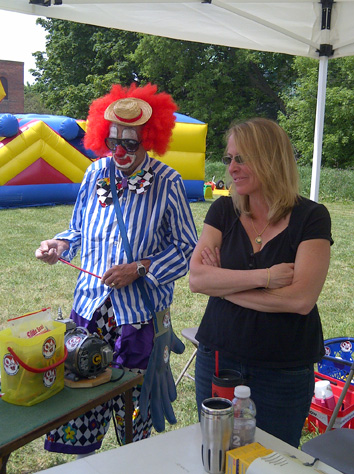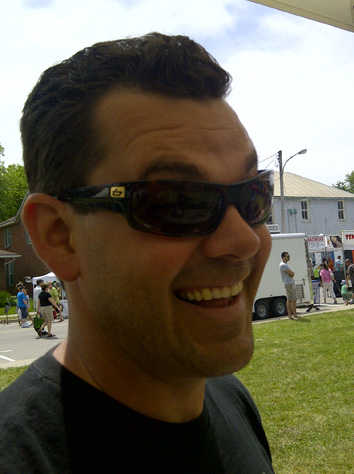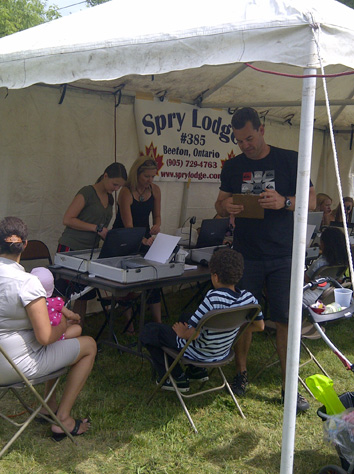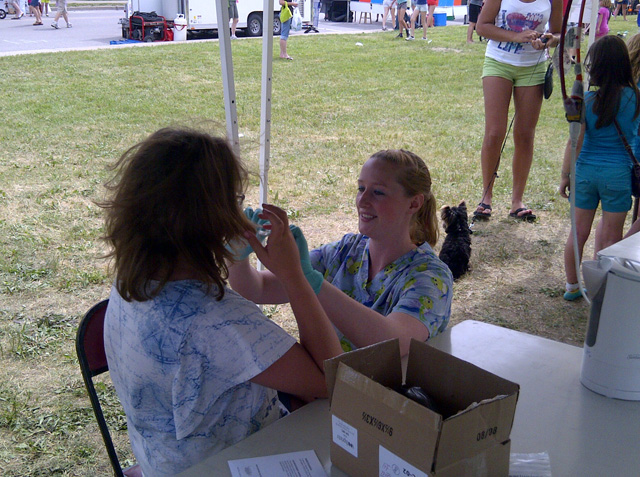 ---
BRO. GLEN POTTS INNITIATED INTO MASONRY
Spry Lodge welcomes Bro. Glen Potts as a member of the Lodge. Congratulations to Bro. Potts on his initiation into Masonry at our regular meeting on Monday April 23rd, 2012.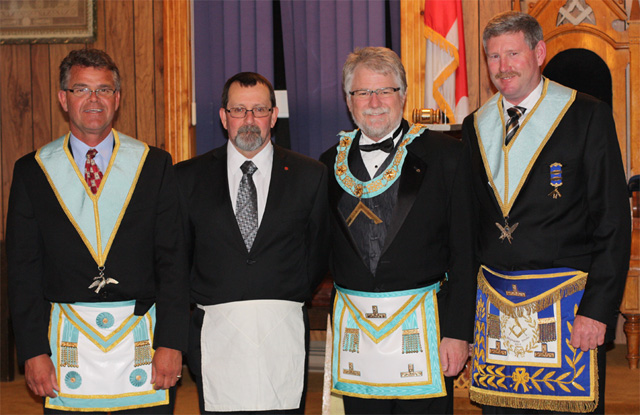 From left to right:
Bro. Woodruff (sponsor), Bro. Potts, W.Bro. Johnston (W.M.) & R.W.Bro. Gower (sponsor)
---
INSTALLATION AND INVESTITURE CEREMONY DISTRICT LODGE OF INSTRUCTION
On behalf of R.W. Bro. John McKillip, Spry Lodge hosted a District Lodge of Instruction on Saturday April 14th to cover some of the details of the Installation and Investiture Ceremony. This morning meeting provided an overview of the Installation and Investiture Ceremony with helpful content to make Installation & Investiture Nights go smoothly and efficiently.
All Masons were welcome to attend, but more especially, progressing officers (including Master-Elects and S.W.'s aspiring to move to the East) and any brother who may be doing work during the ceremony. Particular invites were extended to Installing Masters, Director Of Ceremonies & Assistant Director Of Ceremonies of the Board.
Handouts were available to aid with all aspects of planning for the big night.
Every Installation & Investiture Ceremony deserves to be well-orchestrated and conducted!
---