NEWS FROM THE SPRY LODGE 2013-14 MASONIC YEAR
(From the March 2013 Installation to the 2014 Installation)
---
FEBRUARY 24th 2014 MEETING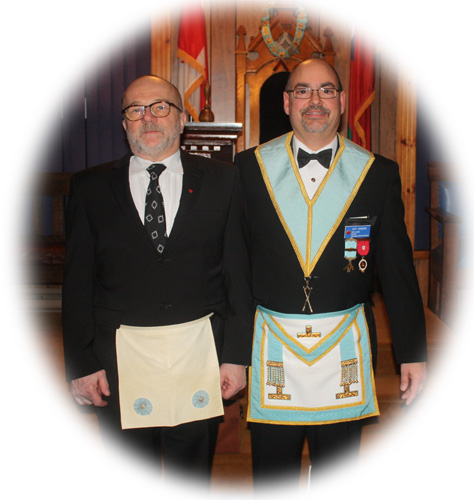 The regular February Meeting of Spry Lodge was a busy, fun night.
W. Bro. Jeff Johnson presided over the meeting in the absence of W. Bro. Scott McCormick, and expeditiously dealt with the regular business, including the annual elections. We are pleased to announce that Bro. Tim O'Rourke was elected as the Master-Elect. With Bro. O'Rourke's dedication and enthusiastic guidance, Spry Lodge promises to have a great year ahead.
Following a splendid demonstration of proficiency in the former degree, Bro. Peter Kudas was conferred to the degree of a F.C. Well done Bro. Kudas, the time and effort that you put into your work was clearly evident.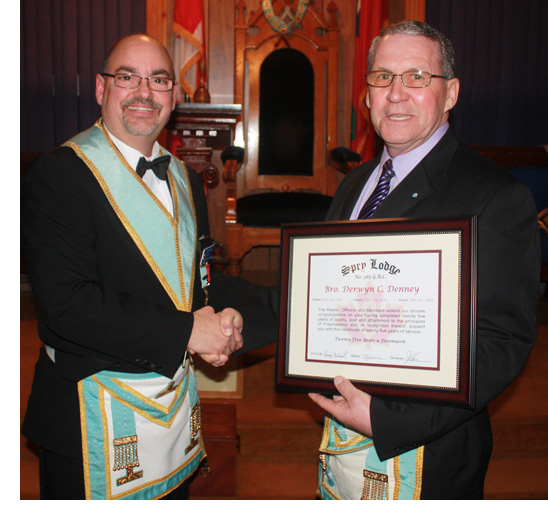 Bro. Derwyn Denney was on hand to receive recognition of 25 years of uninterrupted service to the Craft and was presented with his 25 year service pin from Grand Lodge and a certificate of recognition from Spry Lodge, by M.W. Bro. Ronald E. Groshaw.
The night was not yet over, as it was the 88th birthday of R.W. Bro. Ed Boynton. The brethren sang 'Happy Birthday' before closing the meeting and presented R.W. Bro. Boynton with birthday cakes and good fellowship during the repast that followed.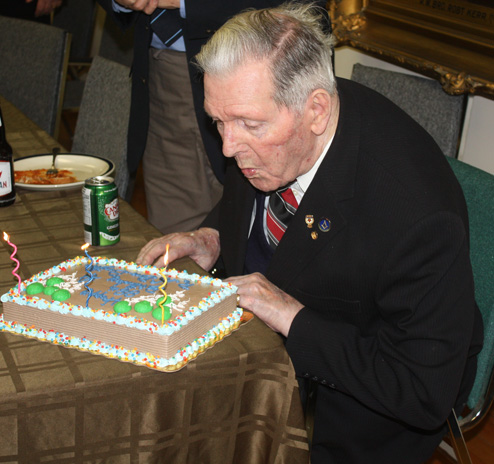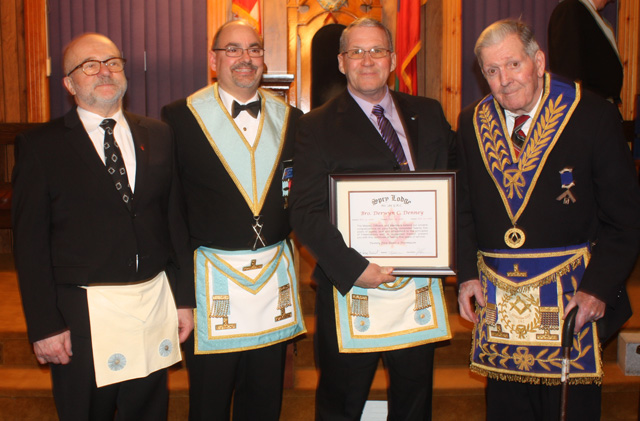 ---
JANUARY 27th 2014 MEETING
The officers and members of Spry Lodge welcomed two new members to their fold at the regular January meeting:
First, Bro. AJ (Anthony) Russo was welcomed as our newest affiliate member. He is the brother-in-law to our Chaplain, Bro. Andy Emslie (Brothers to the power of two). AJ and his wife, Charlene, have two very lovely young children and reside in Aurora.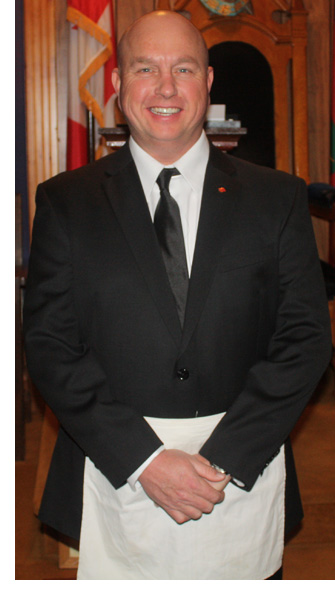 Secondly, Mr. Kevin Capson from the South end of Angus, became Brother Kevin Capson during the ceremony of his initiation into the Craft. Both of Bro. Capson's sponsors where in attendance to support Kevin and to participate in the ceremony; V.W. Bro. Greg Murphy and Bro. Ron Henderson. Kevin and his wife, Stacey, have two teenage daughters, Hayley and Kennedy. Bro. Capson is the VP of a local transportation company.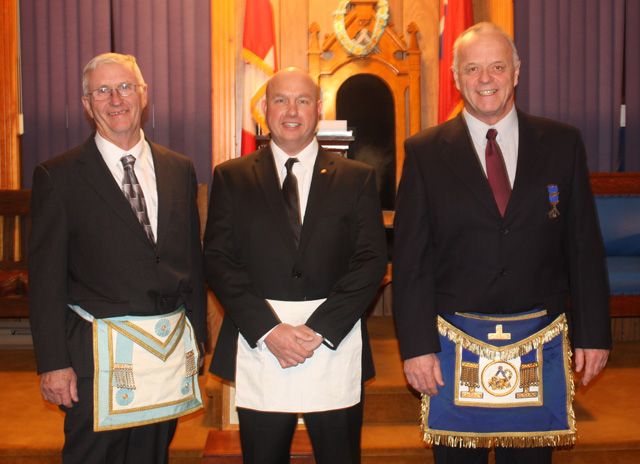 The degree, and the majority of the meeting, was ably conducted by our S.W., Bro. Tim O'Rourke to prove his preparedness for the journey towards the East. All those present (including R.W. Bro. Walter J. Drane, Grand Junior Warden) were left with no uncertainties about the proficiency of this fine young officer; Bro. O'Rourke.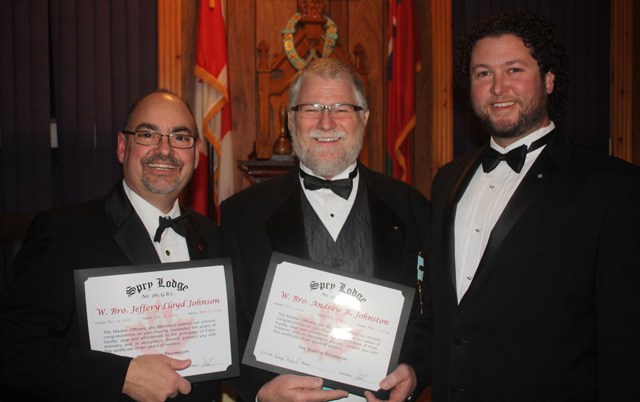 At the end of the meeting recognition of ten years of service to the Craft was presented to W. Bro. Jeff Johnson and to W. Bro. Drew Johnston. Those of us who are fortunate enough to know these outstanding Masons, will surely agree that if the certificate was sized in proportion to the effort and zeal exerted by these brothers, there would be no wall large enough to hang their certificates from.
Congratulations to all the brothers listed above!
---
LADIES AFTERNOON & CHRISTMAS CELEBRATION
Thank you to all who participated in this years Christmas celebration for our special ladies. It was a fantastic afternoon filled with laughs, memories and song. The delicious meal was catered by The Whistle Stop and live entertainment included a range of talented performers from Music In Motion.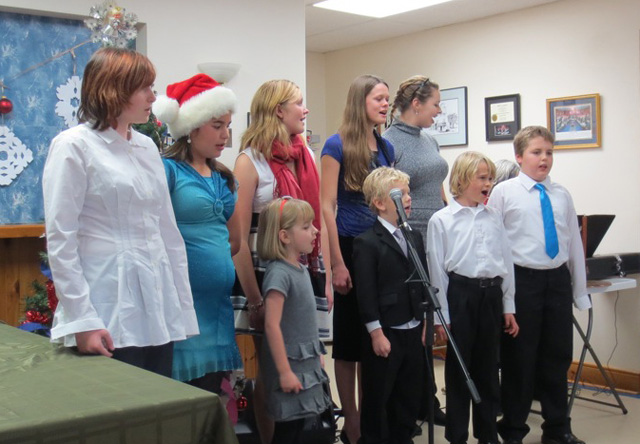 Gifts and Shriner cakes were provided to each of our ladies as a token of our continued appreciation for all they have contributed to Spry Lodge. A special thank you to those who came to help clean and decorate the evening before and all who helped clean up afterwards. A further thank you to those who were unable to attend, yet supported the event through financial contributions.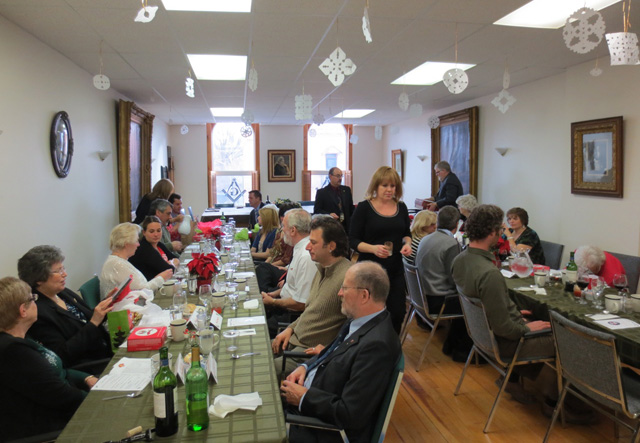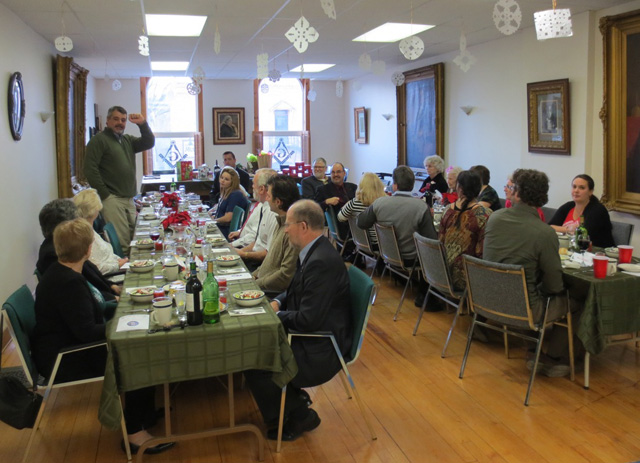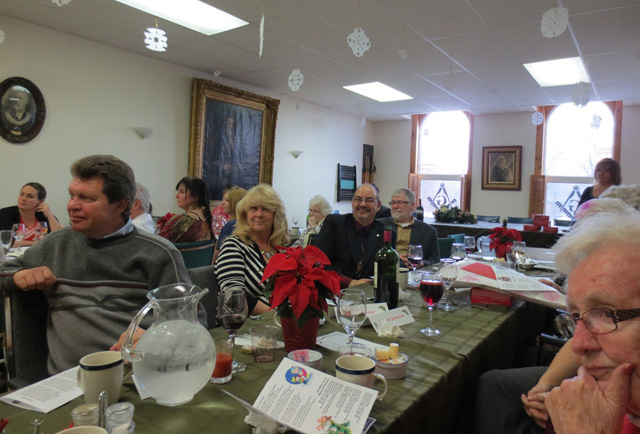 Thank you again to all of you who made this day even more festive, and a very Merry Christmas and a Happy New Year to you and yours.
S&F, Bro. Tim O'Rourke
---
SPRY LODGE WELCOMES ITS NEWEST MEMBER
We are pleased to welcome Bro. Peter Kudas as the newest member of Spry Lodge No. 385. Bro. Kudas was initiated in fine form at the Official Visit of the D.D.G.M. to Spry Lodge on November 25th, 2013.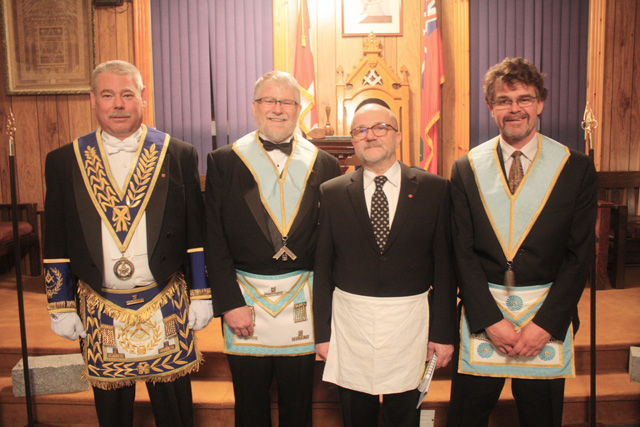 Congratulations and Best Wishes to Bro. Kudas on his Masonic Career.
---
MASONIC EDUCATION - THE ANCIENT CHARGES
The members and visiting brethren present at the October 28th 2013 meeting of Spry Lodge were fortunate enough to witness a truly captivating presentation of the Ancient Charges, so ably delivered by the Grand Senior Warden, R.W. Bro. Dale A. Graham. R.W. Bro. Graham set the mood and took us all back many centuries to the 14th, 15th and 18th centuries.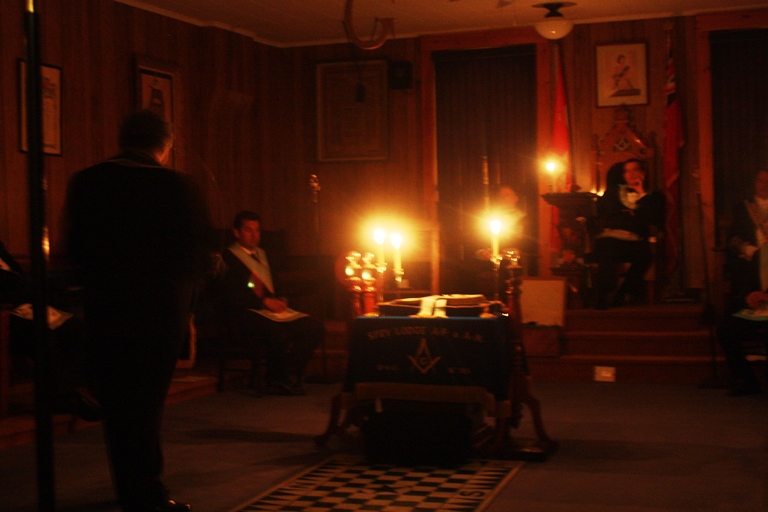 There he explained many facts around the time frame and the state of our order. The presentation was culminated by the reading of the Ancient Charges and the audience was all the better able to relate to the intentions of the Charges and from whence they were derived. All-in-all a thoroughly enjoyable experience. Much gratitude is extended to R.W. Bro. Graham for making the long journey down from Owen Sound to impart this wonderful presentation for all to enjoy.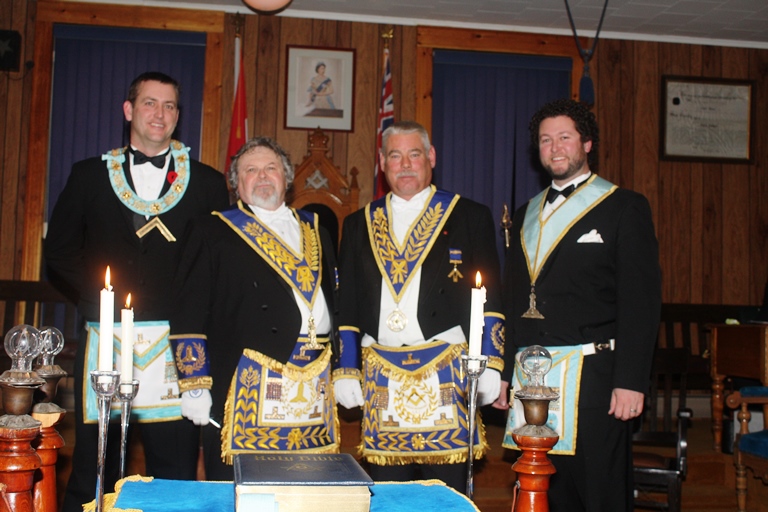 ---
SPRY LODGE ANNUAL FAMILY & FRIENDS BBQ - July 13, 2013
The sun was shining, the birds were chirping and it was a perfect day for the Masonic BBQ. I would like to thank all of the brethren, friends and family who joined us for what turned out to be a nearly perfect day. Gord and Jan Grieve once again served as wonderful hosts and opened their home, pool and property to nearly 40 guests. Tim O'Rourke organized the event and along with Wes Martin also provided some excellent musical entertainment. Thank you to Dave Fusek for tending the BBQ smokers and preparing a delicious meal and thanks to all who brought salads and desserts. Without question the BBQ was an enormous success and a great time for all. As I wandered around the party it was heartwarming to see Masons from all generations enjoying each other's company and our children laughing and playing together and our families getting to know each other.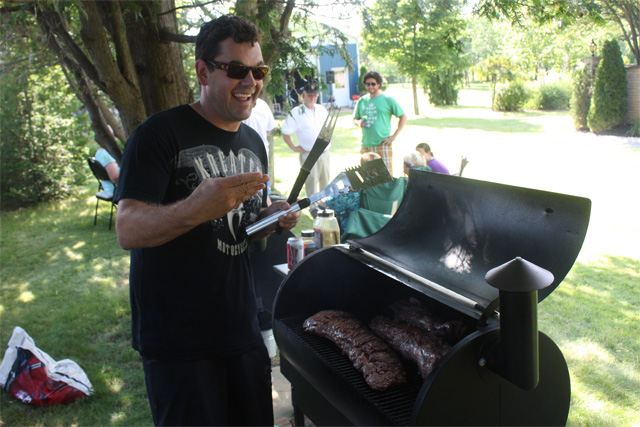 BBQ-Thumb as a surprise for some lucky diner.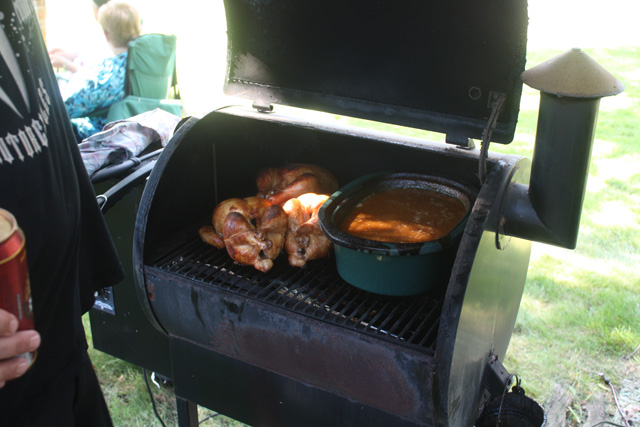 Anyone Hungry? You betya!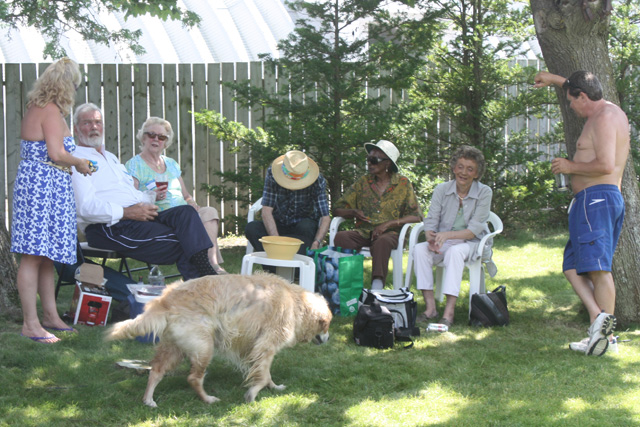 Gracious Hosts; Jan & Gord, making everyone feel welcome.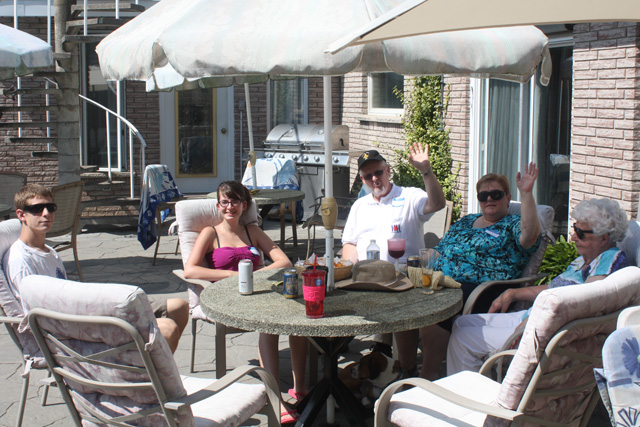 Holla!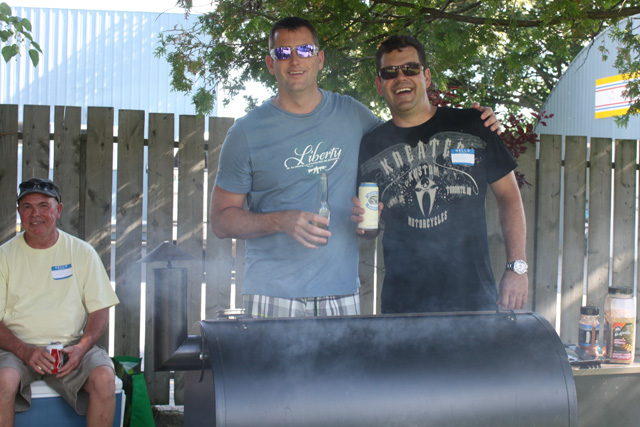 The Dynamic Duo!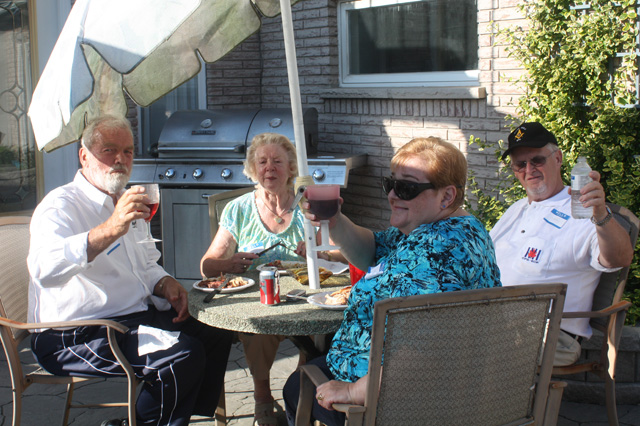 Cheers!

The W.M. getting his Just Deserves!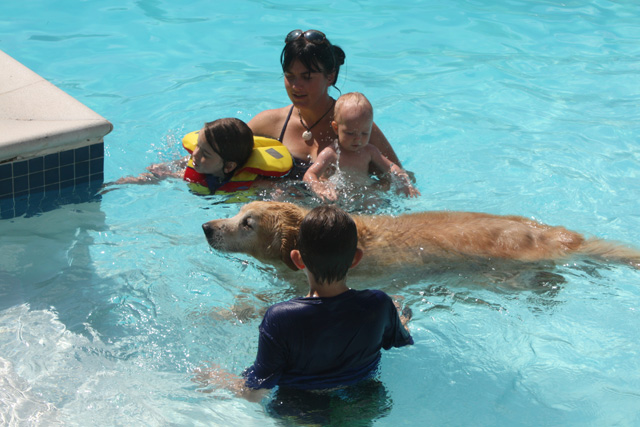 We all enjoy chilling in the pool.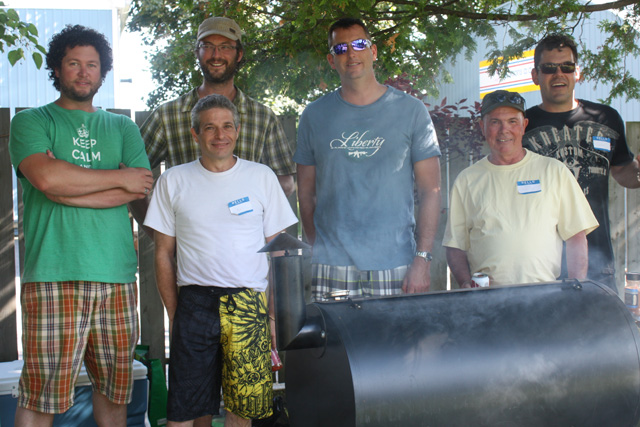 A troublesome bunch, if ever there was.
---
EMS DEGREE TEAM PERFORM RAISING AT SPRY LODGE
At the June 25th, 2013 regular meeting, the Brethren of Spry Lodge were honoured to have the EMS Degree Team in attendance to raise Bro. Chris Barnett to the sublime degree of a Master Mason. Under the direction of R.W. Bro. Barry Gyton, who accepted the gavel as Master for the evening, and with the assistance of V.W. Bro. Robert Stillwell, Grand Senior Deacon, among others from far and wide, Bro. Barnett was made a Master Mason in due and ancient form. Looking on was the candidates father, W. Bro. Jim Barnett, who was honoured and proud to be there to support his Brother and Son as well as our latest recipient of his 60 Years a Mason pin, Bro. Stuart Calhoun.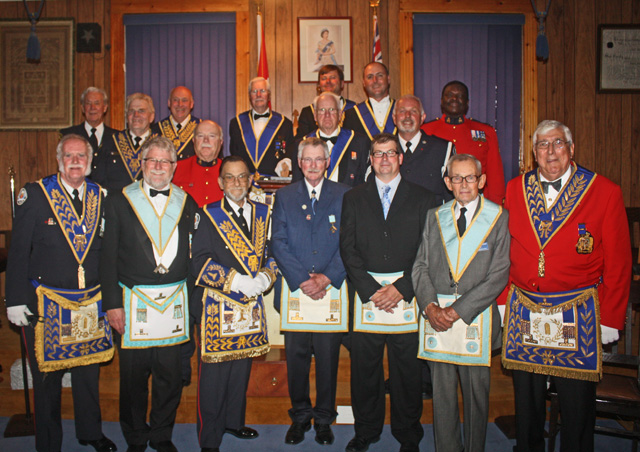 ---