NEWS FROM THE SPRY LODGE 2014-15 MASONIC YEAR
(From the March 2014 Installation to the 2015 Installation)
---
A 'RUSTY MASON' & A TRIPLE 3RD... A PRODUCTIVE SATURDAY MORNING IN MARCH
On Saturday March 7th, 2015, members and visitors of Spry Lodge assembled bright and early in the Lodge room. There, a casual and relaxed 'Rusty Mason' (also known as 'Rusty Nail') presentation was delivered to re-familiarize all the Master Masons' present with the openings and closings of a Lodge in all three (3) degrees, and the protocol and etiquette necessary for them (especially the brethren who have not been to a meeting recently) to feel comfortable again in a lodge meeting.
Following the 'Rusty Mason' the lodge was opened in proper form and three zealous and adept Fellowcraft Masons, in the persons of Bro. Aaron Weston, Bro. Kevin Capson & Bro. Paul Berry, indisputably proved their proficiency in the former degree and were subsequently Raised to the Sublime Degree of Master Masons'. Spry Lodge is indeed fortunate to have such enthusiastic brethren amongst its membership.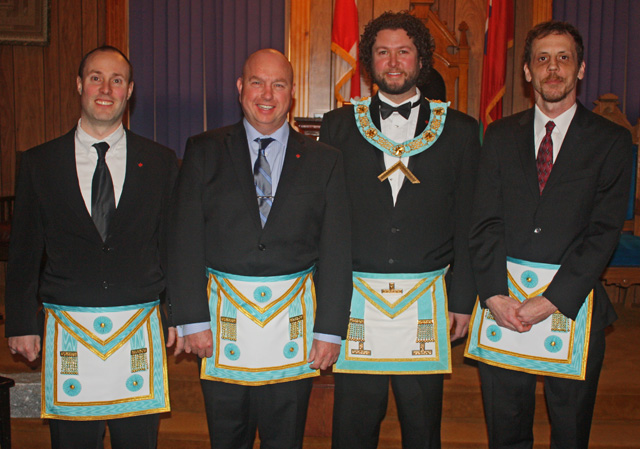 ---
SPRY LODGE WELCOMES BRO. EVANS INTO MASONRY
Mr. John Evans walked into Spry Lodge on Monday January 26th, 2015 and emerged Bro. John Evans. On this night John was initiated into the Craft, the fraternity and as a member of Spry Lodge No. 385. The ceremony of initiation was conducted with impressive traditional ritual, which surely made a favorable and long lasting impression on the mind of Bro. Evans. The W.M., Officers and brethren of Spry Lodge welcome Bro. Evans and wish him the very best as he starts his Masonic career.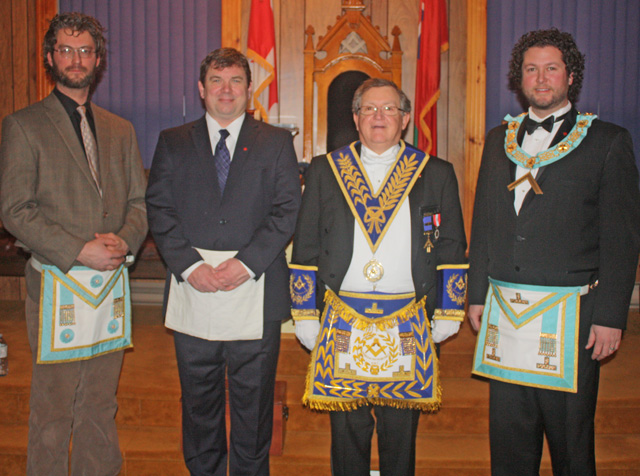 ---
DECEMBER 22nd EMERGENT MEETING
An emergent meeting of Spry Lodge was convened on Monday, December 22nd 2014 for the purpose of conferring upon Brother Paul Berry the degree of a Fellowcraft. W. Bro. Jeff Johnson stepped in as the W.M. for the evening to allow W. Bro. O'Rourke spend time with his wife and newborn son. Following a commendable demonstration of his proficiency in the E.A. degree, Bro. Berry proved himself to be a worthy candidate to be passed to the second degree.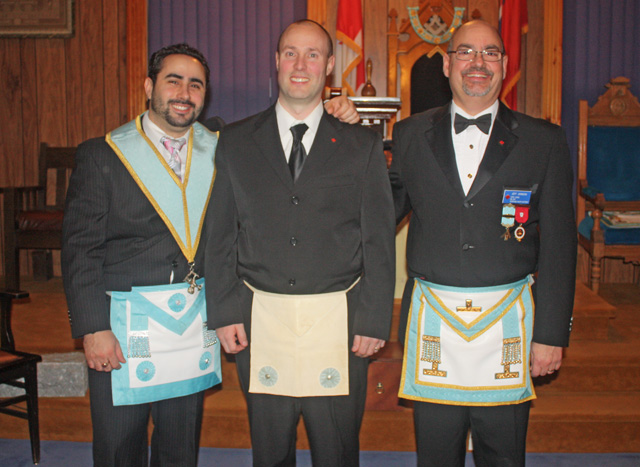 Amongst the visitors present at the meeting, Spry Lodge was honoured to have Bro. Kris Kringle bring fraternal greetings from the G.L. of the North Pole.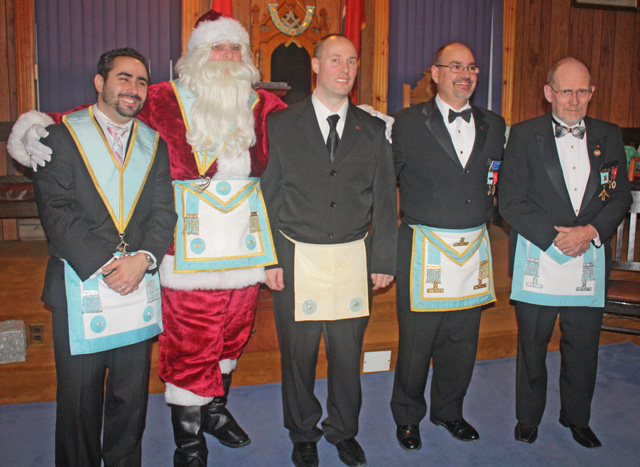 ---
CONGRATULATIONS TO W. BRO. TIM O'ROURKE AND HIS FAMILY
On the morning of Thursday December 18th, 2014, W. Bro. Timothy O'Rourke and his wife Nadia were blessed with a wonderful baby boy; Basil O'Rourke. This will indeed be a magical Christmas for Tim and Nadia. Congratulations to the whole O'Rourke family.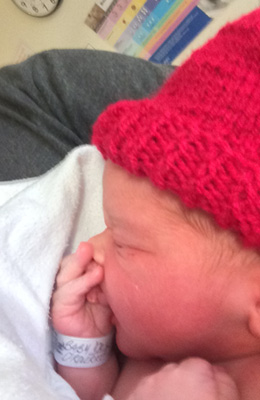 ---
SPRY LODGE LADIES AFTERNOON AND CHRISTMAS CELEBRATION
Spry Lodge paid tribute to our special ladies and in particular, the widows of past Spry Lodge brethren, at a Christmas celebration luncheon on Saturday December 3rd, 2014.
The event took place at the Whistle Stop restaurant in Beeton. Following a social welcoming/reception period with sangria, both alcoholic and non-alcoholic, and an invocation, the luncheon commenced with a choice of a seasonal butternut squash soup or a salad to start. This was followed with a fantastic panko parmesan crusted chicken breast with a brie cheese and port cranberry stuffing in a white wine sauce with homemade mashed potato and fresh vegetables with baskets of warm sourdough bread and butter. Red or white wine was available as desired. The meal concluded with assorted pie or cheese cake selections for dessert and of course coffee and tea.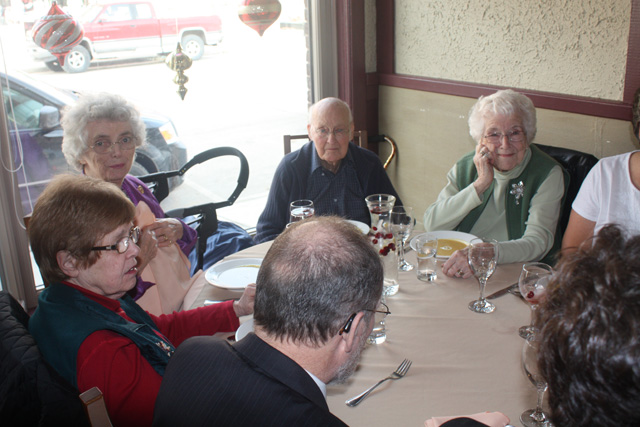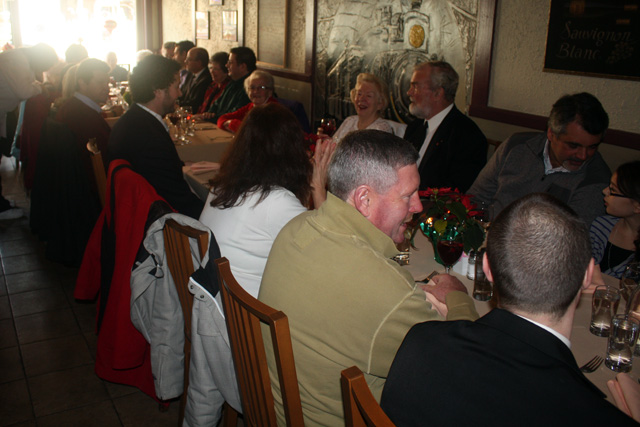 Following the delicious meal the Worshipful Master, W. Bro. Tim O'Rourke, made a heartfelt toast to our special guests. Mrs. Betty Anderson, on behalf of the ladies, responded to the toast with kind words of her own. Christmas gifts were then given and opened, adding to festive spirits.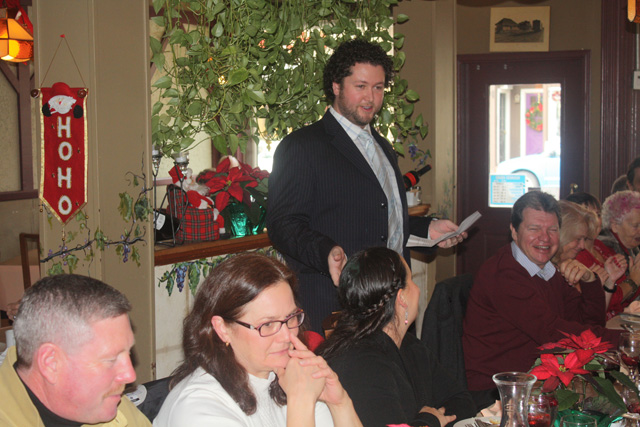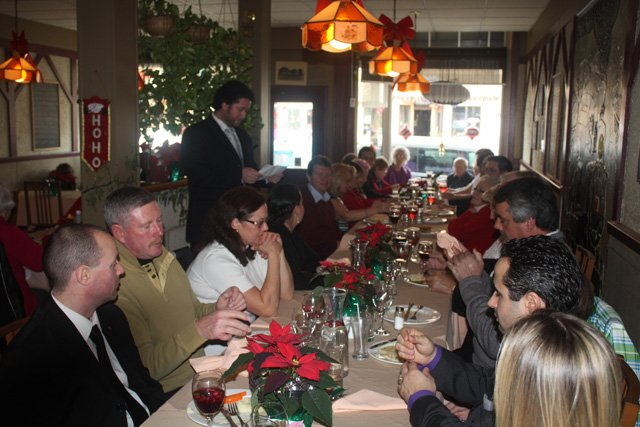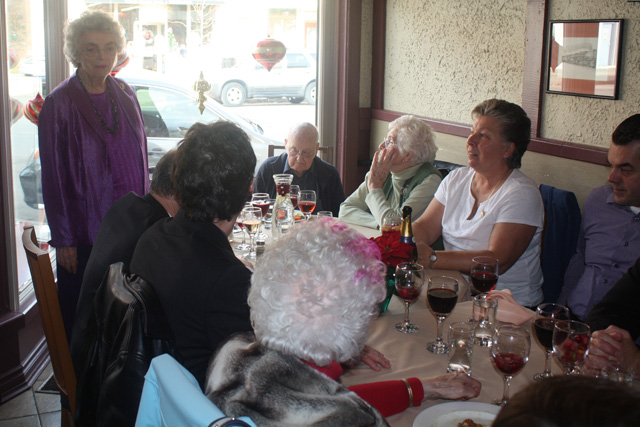 Later in the afternoon we enjoyed the seasonal spectacle of the Beeton Santa Claus parade as it passed down the main street in front of the restaurant and lodge.
A special thanks goes out to the Clara and the staff of the Whistle Stop; to all those brethren who organized the event; those who escorted and took care of our special guests; and to all of those that partook and supported this important event.
---
AN OFFICIAL VISIT... AND THEN SOME!
Our Official Visit, on November 24th, was another meeting packed with the very best in Masonry. Lodge was opened at 5:45 pm and the business portion of the meeting was conducted in an expeditious manner including the passing of two (2) motions. The Lodge was called-off in plenty of time to greet our visitors for the banquet. Following a great banquet of Veal Schnitzel, in honor of R.W. Bro. Kennard W.R. Pratt, District Deputy Grand Master Georgian South District, the Lodge resumed and our visitors were welcomed into lodge where Grand Honors were accorded. Brother Kevin Capson then proved himself in the first degree and as an excellent candidate to be passed to the second degree. The ceremony of the degree followed in fine form.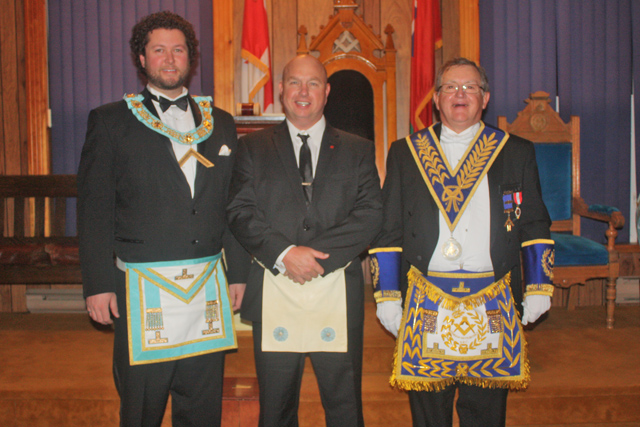 For the Good of Masonry, following the degree, W. Bro. Gord Forrest, W.M. of Mimico Lodge No.369, met W. Bro. O'Rourke on the Level and presented him with a copy of the history of his Lodge noting that M.W. Bro. Daniel Spry was their first W.M.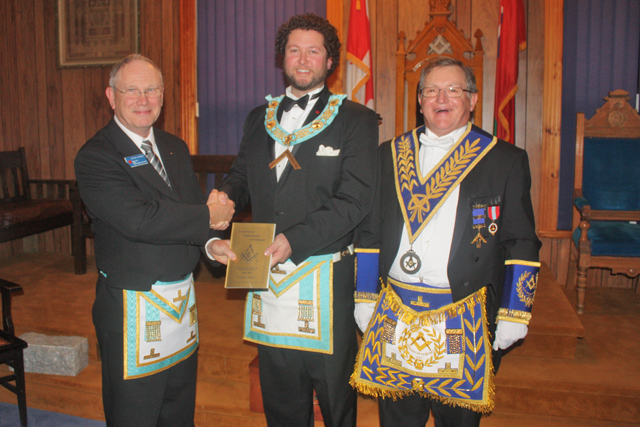 Bro Chris Barnett also received a presentation on the level. W. Bro. O'Rourke and R.W. Bro. Pratt presented Chris with his Master Mason Certificate from Grand Lodge.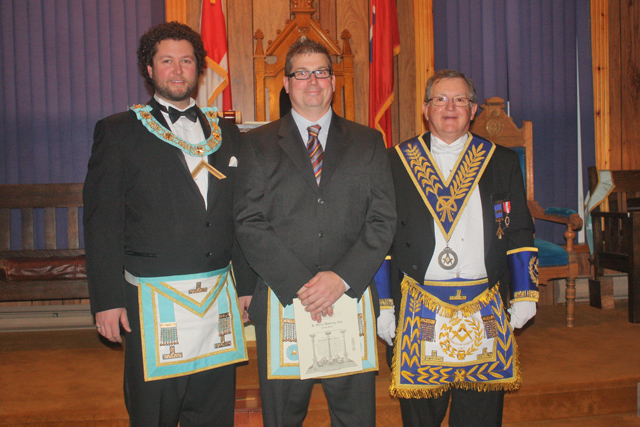 The fun wasn't over yet; we had one more surprise up our sleeves. W. Bro. O'Rourke requested R.W. Bro Doug Fleet to attend the Level along with the DDGM and R.W. Bro. Paul Gower. R.W. Bro. Doug Fleet was then presented with a certificate making him an Honorary Member of Spry Lodge for all of the dedicated work he had done in the District and more particularly his participation in assisting Spry Lodge.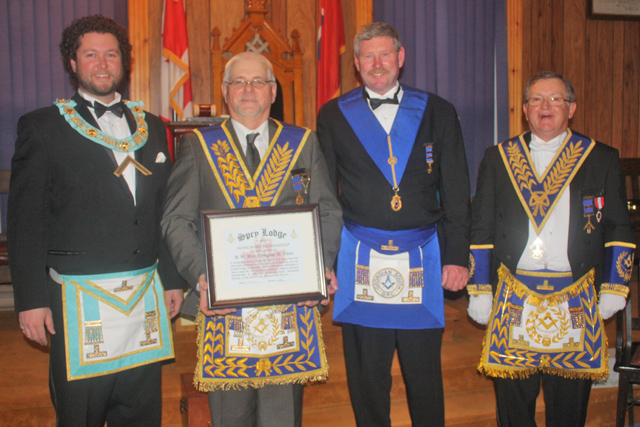 ---
EMERGENT MEETING TO PASS BRO. WESTON
On November 19th, Spry Lodge convened an emergent meeting for the sole purpose of passing Bro. Aaron Weston to the Fellow Craft Degree. Bro. Weston was extremely well prepared as evident by the manner in which he proved his proficiency in the former degree.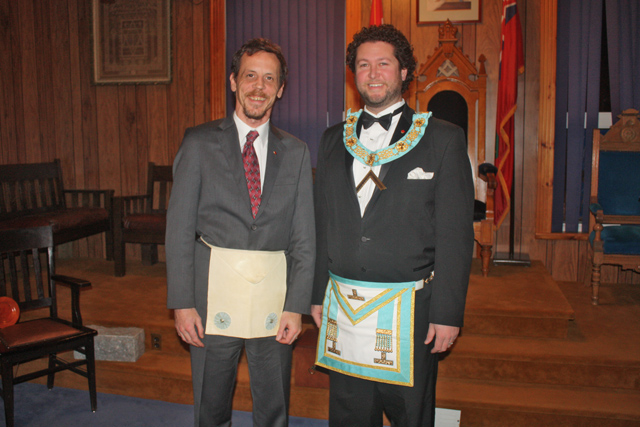 Congratulations Bro. Weston on your excellent work.
---
SPRYíS OCTOBER 27TH MEETING
The regular October meeting of Spry Lodge was an event packed evening. On top of various articles of lodge business and a ballot, those present also witnessed a memorial presentation conducted by ex-servicemen Bro. Jim Moore and W. Bro. Norm Law, followed by two minutes of silence in memory of those who have paid the ultimate sacrifice for our freedom.
Following this, Mr. Paul Berry was initiated into our fine Craft and became the newest Brother of Spry Lodge No. 385. We welcome Paul into our fraternity with open hearts.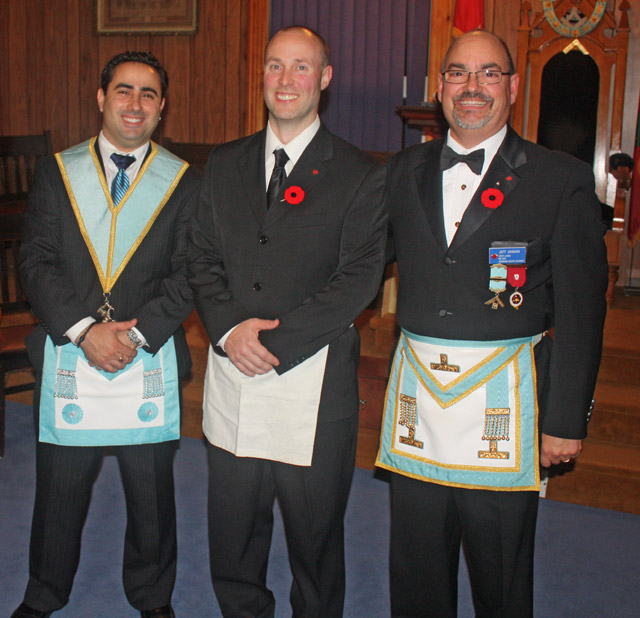 (Bro. Berry shown above with his sponsor Bro. AJ Russo and the fill-in Master for the evening W. Bro. Jeff Johnson).
The fun of the evening was not over yet. A delegation from Innisfil Lodge, in the persons of V.W. Bro. Lachlan Jack, V.W. Bro. Hugh Donnelly & W. Bro. David Boyd, attended our meeting to make a special presentation of R.W. Bro. Alvin Smith's undress regalia to R.W. Bro. Paul Gower.
All of this, and still out of Lodge before 10:00 pm with a hot repast and good company to follow. All in all, a great evening!
---
SPRYíS SEPTEMBER MEETING
Our September meeting was a very memorable one with several special guests and members.† With our D.D.G.M, R.W. Bro. Kennard R. Pratt to my left and R.W. Bro. Harry Anderson sitting as I.P.M. to my right, the lodge went from Labour to Refreshment to welcome in Mrs. Mary Anderson in order to give her and R.W. Bro. Anderson recognition and thanks for their years of service and support. The Andersonís who now live several hours north of Beeton were in town for the evening, and the members of Spry Lodge were able to show their love and appreciation by presenting flowers and a handmade wooden bowl, crafted by R.W. Bro. George Burt who was also in attendance.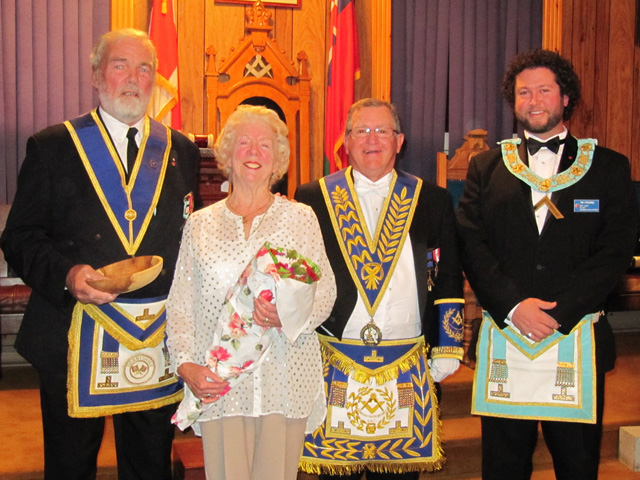 Two excellent Masonic Education pieces were presented by W. Bro. Rory MacDonald and R.W. Bro. George Burt with common themes of time allocation, life balance, and brotherly love. Thank you to our presenters. If anyone else has some Masonic Education they would like to share, please let me know.† The evening ended with a special presentation by R.W. Bro. Kennard R. Pratt of a Canadian Maple Leaf Masonic Pin to Bro. Peter Kudas, and a gift for Bro. A.J. Russo as thanks for designing and printing a range of cards for the lodge.† Thank you to all for making Spry Lodge so fantastic.
W. Bro. Tim OíRourke, W.M.
---
PONDEROSA AND PATIO GOLF DAY
The rain didn't seem to dampen the moods of our golfers this year, as we played through nine holes at the local Ponderosa, then headed over to the Muddy Water Tavern for a meal, prizes, and a lot of laughs. A good time was had by all and monies were raised to be put towards lodge improvement projects. Thank you to all who participated.
---
SPRY LODGE FAMILY AND FRIENDS BBQ
Hosted once again by Bro. Gord Grieve and his lovely wife Jan, Spry Lodge enjoyed a great social BBQ event with friends and family. The sun was shining and the pool was sparkling. It was nice to see so many members out, including all the young families, and a couple of the wives of our dearly departed brethren. A very special thank you to the entire Grieve family that puts a lot of work into this event every year.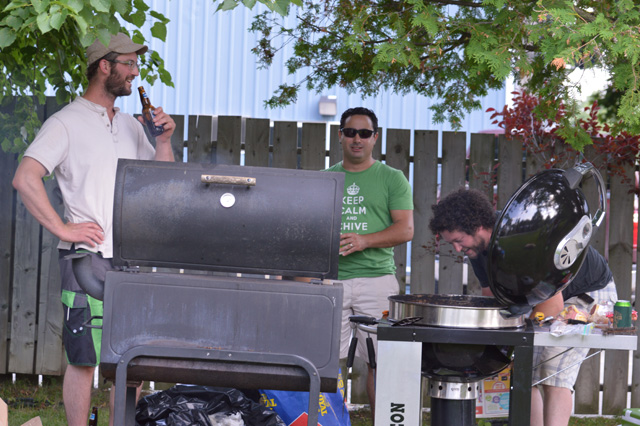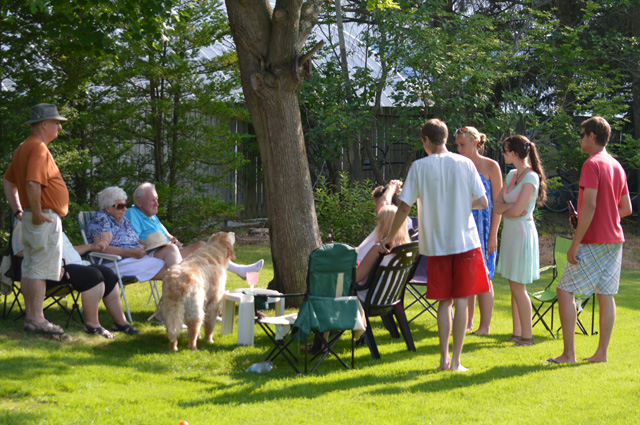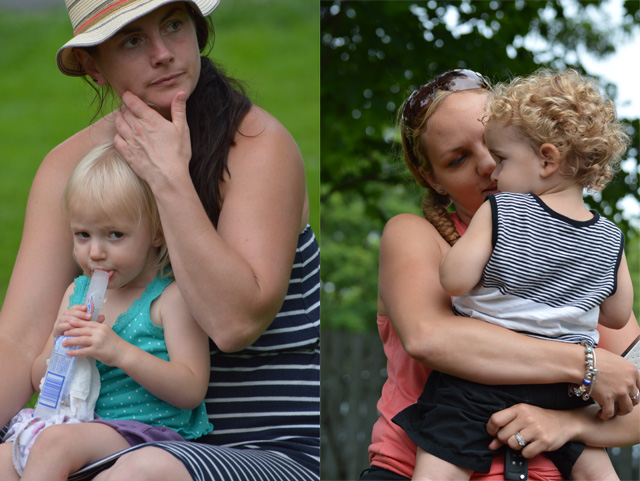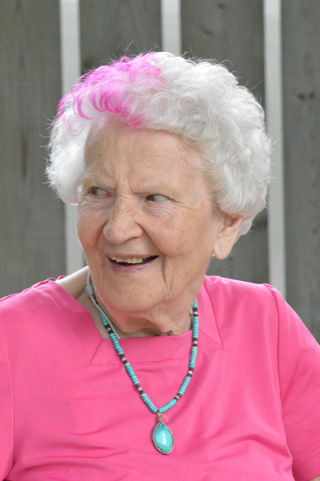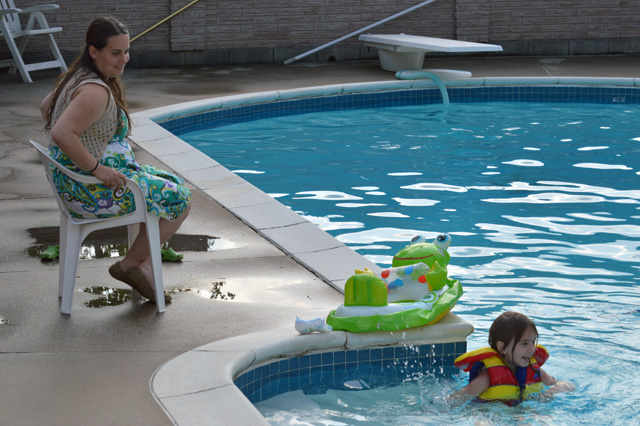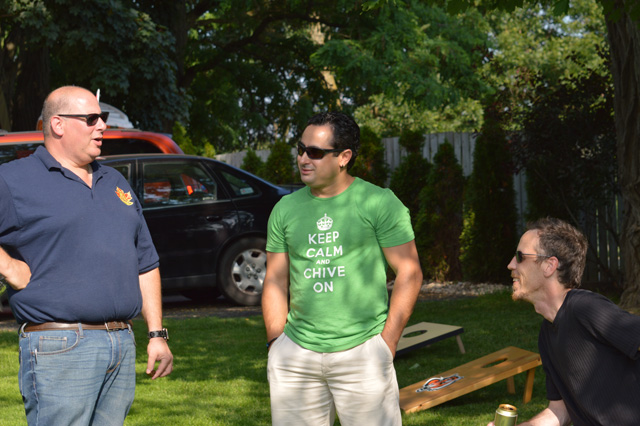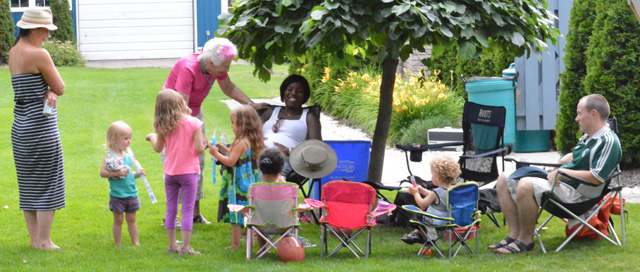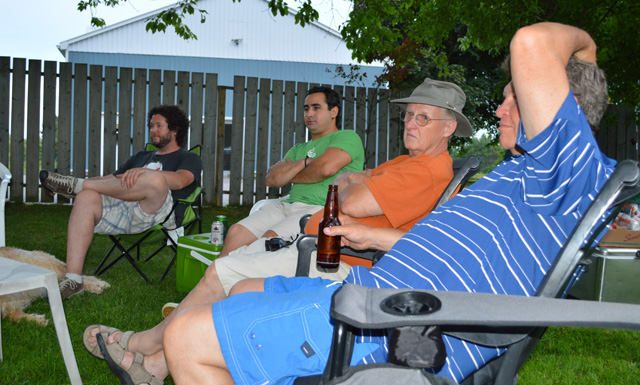 ---
SPRY LODGE - REGULAR MAY MEETING
The culmination of Spry's Lodge Project, #2555, saw the heart warming presentation of the funds raised to help Miss Madi Vanstone and her family in their ongoing drive to find money to pay for Madi's much needed medication. The Vanstone family have to raise $5,700 each and every month (above and beyond the families health benefit plan) so that Madi, a twelve year old Beeton girl, can fight her Cystic Fibrosis and lead a reasonable quality of life.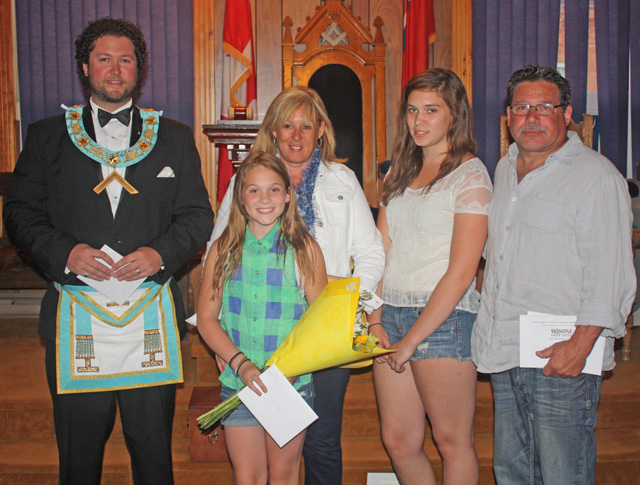 Those at the presentation are all the more enriched for having met this wonderful and brave young lady...her contagious smile melted every heart in the room, without exception!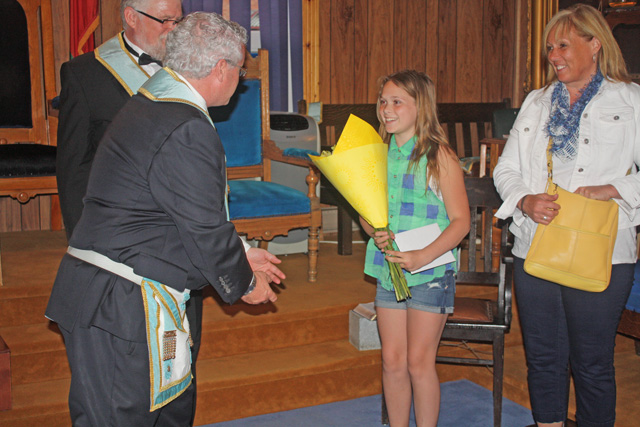 The night's fun didn't finish there; Mr. Aaron Weston was welcomed into Masonry and became Brother Aaron Weston that night following an excellent initiation degree. We wish Bro. Weston the very best as he progresses in his Masonic Career.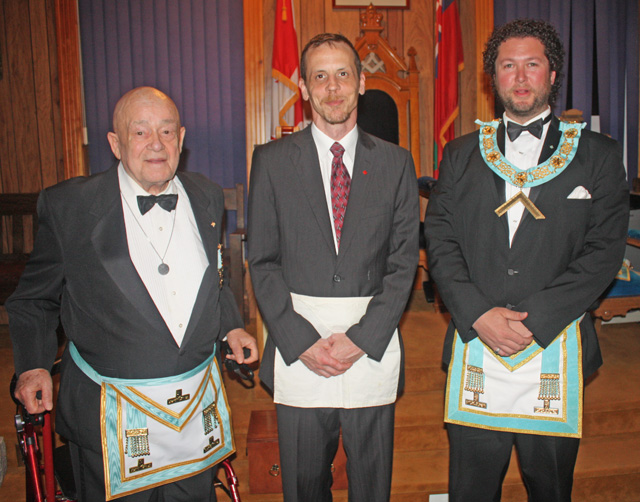 ---
SPRY LODGE HOST MASONICH.I.P CLINIC
Through the hard work and dedication of good men and women, who make a difference in our community and surrounding areas by getting involved in such worthwhile events, Spry Lodge was able to host yet another very successful MasoniCh.I.P clinic at the 2014 Beeton Honey & Garden Festival. On Saturday May 24th, sixty eight (68) child identification packages were created and given to the parents and guardians of their children, and are thereby better prepared to protect these loved ones.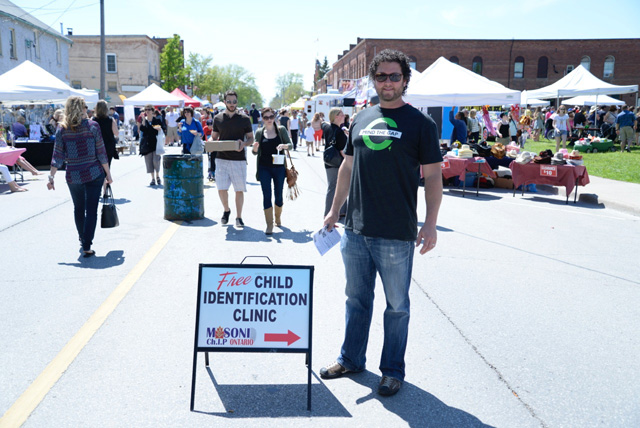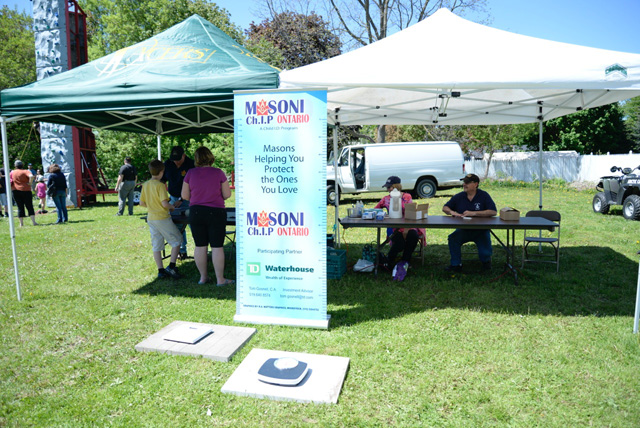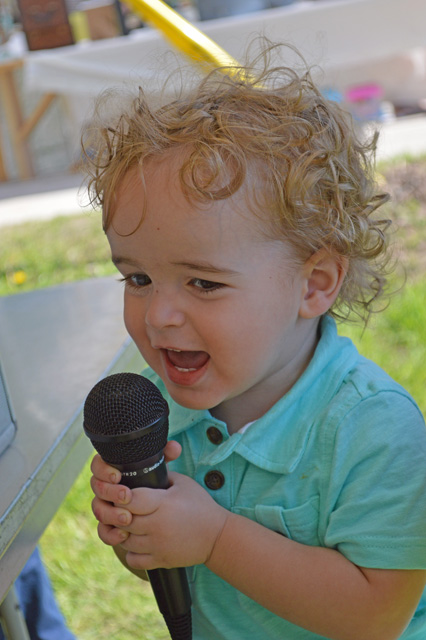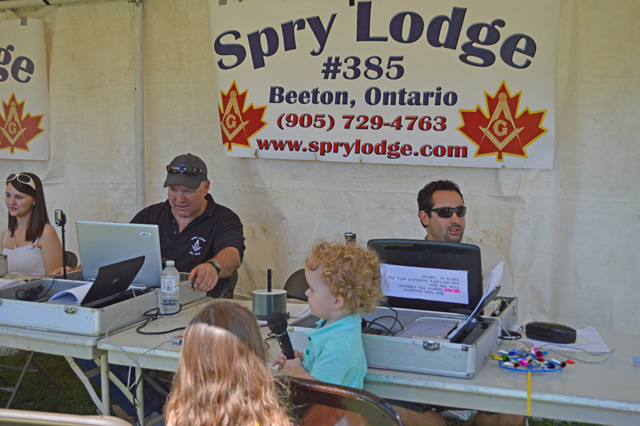 ---
SPRY LODGE HOST 4th ANNUAL ULTIMATE TRIVIA NIGHT
Spry Lodge No.385 held its annual Ultimate Trivia Night on Wednesday, April 9th 2014, as a fund raising event towards our Lodge Project #2555. The project was established through the Masonic Foundation of Ontario to help Miss Madison (Madi) Vanstone and her family. Madi is a 12 year old Beeton girl who suffers from Cystic Fibrosis. The Vanstones have a daunting task of raising $68,400.00 each year, above and beyond the family's medical benefits, to buy a drug that vastly improves Madi's quality of life and health. For more information regarding this project and for details of how to make a donation, please click here.
The Ultimate Trivia Night event was again held at the Muddy Water Hotel in Beeton and was filled to overflowing. Sincere thanks go out to Kim Farrugia, the owner of the Muddy Water Hotel, for accommodating the fun event.
The main organizer and the MC for the night was the current Worshipful Master of Spry Lodge himself, W. Bro. Tim O'Rourke. Tim confided that he had difficulty talking the next day, but said it was all worth while. A great job Tim!
Special mention goes out to those who also helped make things work smoothly that night; Ms. Kristen Johnson, Evan & Niall Merrilees, AJ Russo and Drew & Debra Johnston. Recognition is also awarded to the generosity of all who participated in the event, with especial mention to Ms. Lisa Nicolea for the very generous donation she made towards the project.
The Ultimate Trivia Night raised over $2,500.00, all of which goes to the Vanstone family through the Masonic Foundation.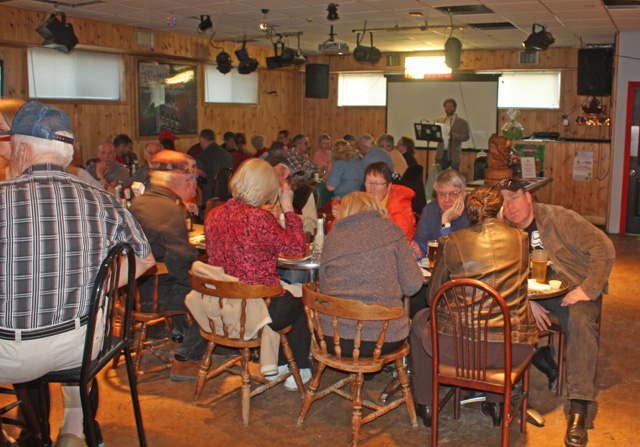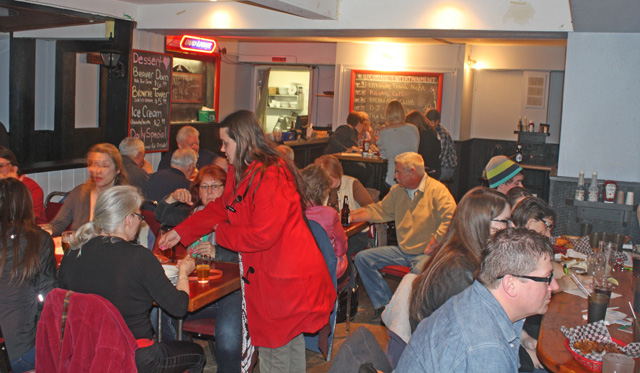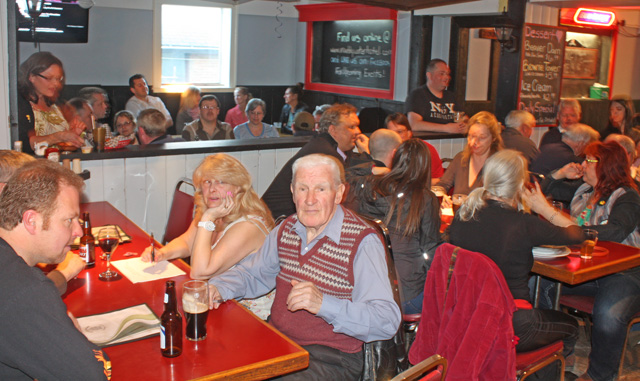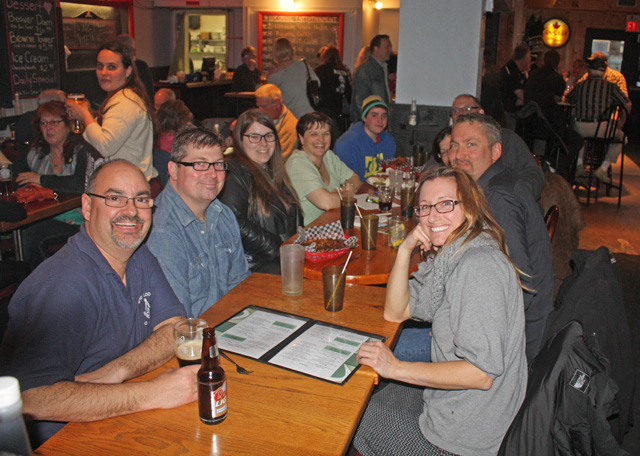 Thanks to all that came out and made the night another great success that it was!
---
MARCH 22nd 2014 INSTALLATION AND INVESTITURES
On a snowy Saturday morning, brethren and guests came from far and wide to support the Installation of W. Bro. Tim O'Rourke and the Installation of the Officers of Spry Lodge. We had a GREAT turn-out, including Tim's family, who made some heartfelt presentations to the new Master of the Lodge.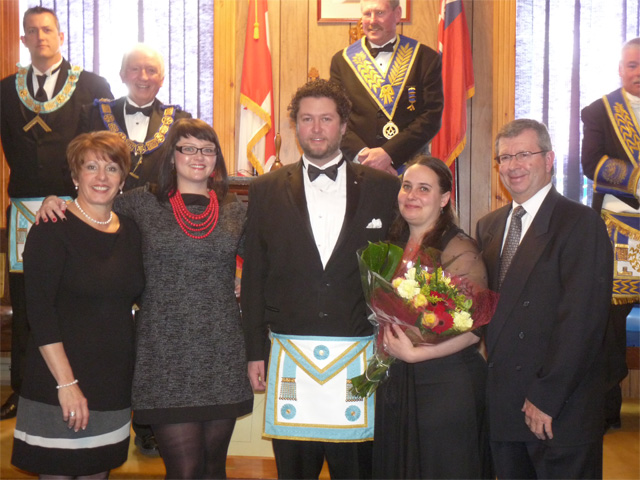 Debbie, Diane, Tim, Nadia & Gary
In attendance for the ceremony, we were fortunate enough to have several Grand Lodge Officers, namely, M.W. Bro. Ronald E. Groshaw Past Grand Master, R.W. Bro. Michael J. Long District Deputy Grand Master Georgian South District, R.W. Bro. Dale A. Graham Grand Senior Warden and R.W. Bro. Walter J. Drane Grand Junior Warden. We were also blessed by the presence of a large number of Past Grand Lodge Officers, Masters of other Lodges and visiting brethren for the ceremony, for which we are humbly grateful.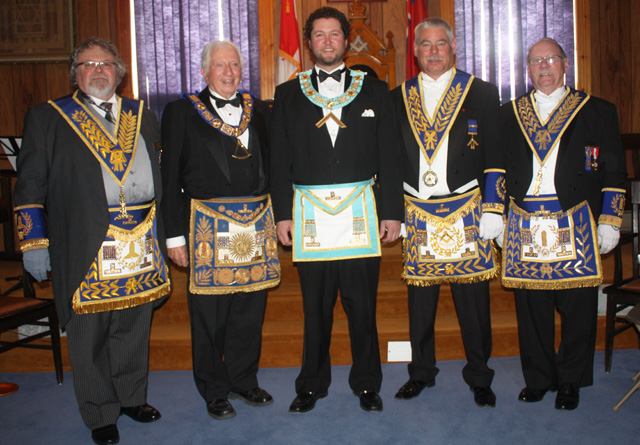 R.W. Bro. Graham, M.W. Bro. Groshaw, W. Bro. O'Rourke, R.W. Bro. Long & R.W. Bro. Drane
Fraternal visitors from as far afield as the state of Iowa came across the border for this special occasion, namely a Past Grand Master and a Past Grand Treasurer of the Grand Lodge of Iowa, and the Worshipful Master and both Wardens of Marion Lodge No. 6 of Iowa.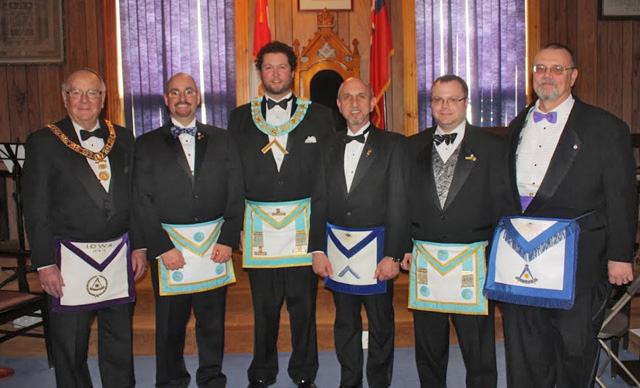 M.W. Bro. Stamy, Bro. Johnson, W. Bro. O'Rourke, W. Bro. Smith, Bro. Cline & R.W. Bro. Bowersox
Following the ceremony of Installation guests, visitors & members sat down for a formal banquet with toasts, speeches and a special presentation to M.W. Bro. Groshaw in recognition of the 30 Year Anniversary of becoming Grand Master of the Grand Lodge of Canada in the Province of Ontario.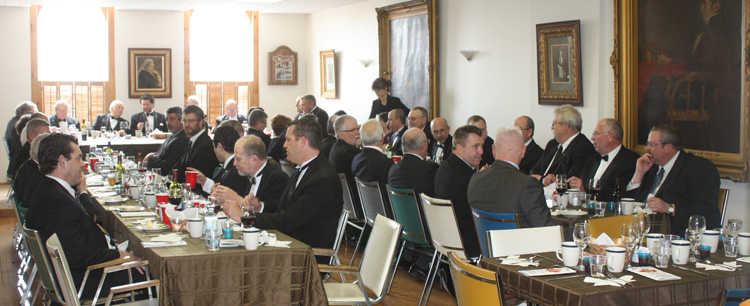 We wish W. Bro. O'Rourke and the newly invested Officers of Spry Lodge a successful and fun year ahead!
---